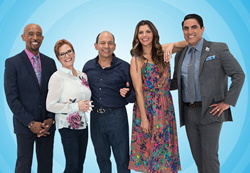 It was love at first sight for me! Honored to be working with [Ali Landry and Caroline Manzo], Farahan said about the upcoming episode. - @rezafarhan Instagram
DEERFIELD BEACH, Fla. (PRWEB) May 15, 2019
TV production company, BrandStar, decided to spice things up in their regular programming by introducing a new "special edition" panel style concept to one of its most successful shows, The Balancing Act, which airs on Lifetime Television. For the past 11 years, The Balancing Act has been a daily morning show for today's on-the-go, modern women to help balance and enrich her everyday life. This new approach to the show's regular format introduces these five well known, charismatic hosts, each bringing a different life & experience element to the table that will undoubtedly open a wide variety of entertainment to viewers.
The Celebrity Edition already garnered significant buzz thanks to Reza Farahan, the Shahs of Sunset cast member who shared an Instagram post with fellow Balancing Act contributors Ali Landry and Caroline Manzo.
"It was love at first sight for me! Honored to be working with [Ali Landry and Caroline Manzo]," Farahan said about the upcoming episode." - @rezafarhan Instagram
Both Farahan and Manzo are very familiar with finding balance. Farahan is a real estate maven and has launched his own line of haircare products. Manzo, the Real Housewives of New Jersey alum, juggles her TV career with being a business owner, wife, mother of three and doting grandmother.
The celebrity edition will also feature talk show legend and Military Makeover host Montel Williams, along with celebrity chef and restaurateur Ralph Pagano.
This "Special Edition" of The Balancing Act will premiere on Monday, May 20th at 7:30am and will offer everything from delicious recipes by Ralph Pagano using featured brands Sticky Fingers and Slim Chillers, style makeovers and dream vacations to parenting tips and the latest in health and wealth. The show will also have an exclusive interview with Naomi Whittel talking about her new book – Glow 15.
The Balancing Act's Special Edition EPK with B-Roll, Full Bios and More
###
About BrandStar: We're matchmakers; connecting People to Brands to Do Life Better. BrandStar has unparalleled experience in creating customized educational content for brands with laser targeted extensive distribution through their multi-channel network ecosystem and methodology. From Original television programming on Lifetime, BrandStar.tv, social media, digital marketing, to media management and PR; BrandStar helps brands connect with the right consumer, at the right time, with the right message, through all the right channels.
About Balancing Act: The Balancing Act is a daily morning show created and produced by BrandStar that brings fresh ideas to today's modern woman to help balance and enrich her life every day. Now in its ninth season, The Balancing Act features everything from delicious recipes, style makeovers and dream getaways to parenting tips and the latest news in health and wealth. Tune in to The Balancing Act, America's premier half-hour show for women and about women, weekday mornings at 7:30 a.m. (ET/PT) on Lifetime®.