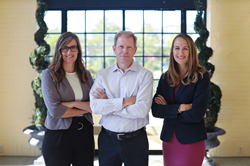 SEWICKLY, Pa. (PRWEB) February 22, 2023
The Barnes Global Advisors (TBGA) Founder, John E. Barnes, is announcing two strategic promotions within the organization in response to the company's growth. Laura Ely is promoted to Managing Director and Jennifer Coyne assumes the role of Director of Programs.
In John's new role of President, he continues as the company's visionary providing overall strategic direction and industry leadership. Laura and John will share responsibility with the broader aspects of the team, the culture, and the brand. With TBGA entering its 6th year of operation and continuous growth, the promotions reflect a commitment to efficient operations and successful succession planning.
Trust is the key value of TBGA, and the company has always reflected a customer-centric philosophy to support this priority. This alignment of responsibilities will maximize the value offered by TBGA and its ADDvisors® to industry partners. John emphasizes, "being focused on customer value is more than just words. Creating a culture that exudes trust, cleverness, and fun has always been our goal. TBGA strives to lead by example as evidenced by the TBGA Impact Report Card which holds the team accountable to the customer, the ADDvisors®, and the environment."
Laura Ely joined TBGA in 2018 after creating a new technology team and Directed Energy Deposition program for GKN Aerospace North America and has helped bring alignment and structure to the team. Laura's ability to optimize across technical, strategic and people knowledge pools enables her to find solutions and connect the dots for customers which have proven invaluable to the TBGA mission. Laura embraces project execution that comes from a place of understanding the customer, "it's important to understand and empathize with customer pain points. It's the only way to build trust and develop long-term relationships."
Jennifer Coyne came to TBGA in 2021 after leading the additive manufacturing division of Wabtec Corporation. Jen is a driving force within TBGA and her passion for AM, the team and maximizing efficiency has been a tremendous benefit to customers and the organization. John shares the team perspective, "the ADDVisors® thrive on Jen's entrepreneurial spirit, her drive to meet goals, and genuine, team-empowered attitude. In the thick of a challenging project, the team can always count on Jen to provide the stability and common sense needed for success."
TBGA continues to focus on industrializing additive manufacturing (AM) with a holistic view of advanced manufacturing and is a proud partner on a broad spectrum of commercial and defense programs encompassing qualification and certification, material and process development, workforce and skills, regional ecosystems, investment and M&A, cybersecurity, and a host of other advanced manufacturing disciplines.
The Barnes Global Advisors is the largest independent Advanced Manufacturing engineering consultancy. Headquartered in Pittsburgh, Pennsylvania, TBGA has a presence on six continents and across the United States. TBGA helps companies work through their AM adoption via strategy, design, leadership, training, metallurgy, economics, and media and is comprised of seasoned specialists with well over 200 years of combined experience in Advanced Manufacturing.