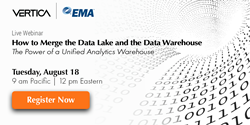 BOULDER, Colo. (PRWEB) August 05, 2020
Enterprise Management Associates (EMA), a leading IT and data management research and consulting firm, today announced it will host a webinar titled "How to Merge the Data Lake and the Data Warehouse: The Power of a Unified Analytics Warehouse," featuring John Santaferraro, research director of business intelligence and data warehousing at EMA, and Jeremiah Morrow, senior product marketing manager at Vertica.
Digital, mobile, and the Internet of Things (IoT) change the way modern companies operate. In the digital world semi-structured data is as important as transactional, structured data. Both need to be analyzed to create a competitive advantage. Unfortunately, neither the data lake nor the data warehouse are adequate to handle the analysis of both data types.
Driven by customer requirements, there is a push toward the innovative unified analytics warehouse, a merging of the data lake and data warehouse. It is unified because it adequately handles multi-structured data in a single platform. It is an analytics platform because the primary use case for both the data lake and the data warehouse has always been analytics. It is a warehouse because it stores multi-structured data in an organized and accessible manner.
During this webinar, Santaferraro and Morrow will discuss the power of a unified analytics warehouse, as well as:

The best ways to deploy a unified analytics warehouse
The power of a unified analytics warehouse in cloud and hybrid environments
The potential of unified analytics for IT and business
The inadequacies and shortcomings of both the data lake and data warehouse
The requirements for a combined data lake and data warehouse
The webinar is Tuesday, August 18 at 12:00 p.m. Eastern. Registration is available at https://info.enterprisemanagement.com/how-to-merge-the-data-lake-and-the-data-warehouse-webinar-pr
About EMA
Founded in 1996, EMA is a leading industry analyst firm that specializes in providing deep insight across the full spectrum of IT and data management technologies. EMA analysts leverage a unique combination of practical experience, insight into industry best practices and in-depth knowledge of current and planned vendor solutions to help their clients achieve their goals. Learn more about EMA research, analysis and consulting services for enterprise line of business users, IT professionals and IT vendors at https://www.enterprisemanagement.com