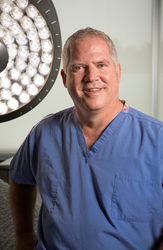 GRAND RAPIDS, Mich. (PRWEB) August 31, 2018
The summertime sweat that many people dread is a year-round reality for some members of the population—specifically those who suffer from a condition known as hyperhidrosis. In Grand Rapids, Dr. Brad Bengtson recognized the need for a solution to the problem of "pitting out" as men and women alike frequently soak through their shirts for no reason other than the fact that their sweat glands are overly active. Now offering miraDry®, the Bengtson Center can dramatically reduce the amount of sweat patients produce under their arms each day, all without surgery.
Not only does miraDry® reduce moisture, it also cuts down on odor, as the treatment uses electromagnetic energy to destroy the glands that produce fluid that mixes with bacteria on the surface of the skin to create B.O.
Follicles can also be targeted, stopping them from properly producing hairs in the future.
The varied results of a miraDry® treatment are all accomplished the same way: The device is guided by a template to be fitted directly against the skin of the underarm, which it then pulls closer to better receive miraWave™ energy. This energy can damage a significant number of sweat glands and hair follicles as it is delivered into the skin, with the entire process taking only about an hour.
Patients can expect some post-treatment swelling and sensitivity, as well as droplets of moisture that eventually form as the swelling subsides. Typically, up to three treatments may be required in order for the patient to receive the desired level of sweat reduction.
Note that the average adult body has about 4 million sweat glands, used mainly for cooling. The number of sweat glands found under the arms is miniscule—2 percent—compared to the total-body count, so stopping them from functioning does not have a noticeable impact on overall cooling efforts.
Dr. Bengtson personally leads the Aesthetic Experts at his practice, setting a foundation of experience, excellence, and compassion. A member of this team will handle each miraDry® treatment, working to make it as comfortable as possible—an effort that can include the injection of a local anesthetic as well.
For more information about miraDry® to address hyperhidrosis in Grand Rapids, MI, contact the Bengtson Center for Aesthetics and Plastic Surgery by calling (616) 588-8880 or 1-877-822-8880 to schedule a consultation. There is also an online contact form available for the center.