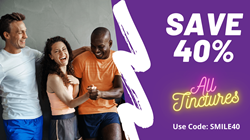 The Smilyn team believes in the untapped potential of hemp-derived products to heal the mind and body
SAN DIEGO (PRWEB) August 11, 2020
California hemp oil brand, Smilyn Wellness, is offering 40 percent off sitewide through August — including its popular hemp-derived tinctures.
Smilyn tinctures are made of premium hemp extract. The Zero THC, flavor-filled tincture formulations, include the perfect potions of grape, blueberry, mint, lemon, orange, and cinnamon. And for your furry best friend, don't forget the notorious D-O-G pet tincture.
The brand has seen an increase in demand due to its rigorous lab-testing process, a wide range of products, brand transparency and reputation, consumer experience, fast shipping, and the incredible discounts.
Smilyn Wellness: What's Our Story
As you enter the Carlsbad, California headquarters of Smilyn Wellness, you enter a modern, colorful space.
The Smilyn brand is more than just a modern logo and a rainbow spectrum of hemp-derived, broad-spectrum products.
Brett Weiss, Co-Founder and CEO boldly reveals, "A Weiss man once told me, the secret to longevity is Smilyn (chuckles). When we created our hemp-derived brand, it was important that our name reflected our purpose."
Mr. Weiss added, "Our brand provides industry-leading guidance, indulging products, gives back to our local communities, and supports individuals who want to live an active lifestyle. Beyond this, it creates one tangible solution … smiles across the board. We've accomplished far more grinning smiles than anyone could have imagined at Smilyn."
Shop Smilyn Hemp Products
Incorporating the power of science, Smilyn delivers on its promise of amplified health and wellness benefits. The Smilyn team believes in the untapped potential of hemp-derived products to heal the mind and body.
The message is clear. Smilyn Wellness is a lifestyle brand. A lifestyle that promotes longevity for every person (and every pet). Shop now — 40 percent discount with code SMILE40.
About Smilyn Wellness
Smilyn Wellness in California is a hemp-wellness brand simplifying the benefits of premium hemp extract. We exist to revolutionize. We exist not only to help individuals look and feel amazing — but also smile throughout the adventures of life. Combining scientific data with health-based knowledge, Smilyn offers a portfolio of hemp-derived products that are trustworthy, tasty, and geared toward an active new-age lifestyle.