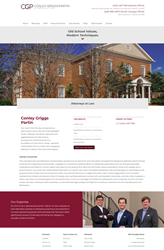 It is always an honor for individuals from our law firm to be represented on this list. This recognition reflects our attorneys' commitment to providing exceptional, results-driven litigation services for our clients, says Ranse M. Partin
ATLANTA (PRWEB) August 15, 2019
Best Lawyers is one of the oldest and well-known attorney ranking services in the world.
The Best Lawyers 2020 list includes three lawyers from the firm of Conley Griggs Partin, located in Atlanta, Georgia. Attorneys Ranse Partin, Scott Farrow and Andy Scherffius were recently selected by their peers for inclusion on the exclusive list. These chosen lawyers from Conley Griggs Partin are highly respected attorneys who specialize in personal injury and business tort cases.
A listing in this publication signals legal expertise, ethics and professionalism of the highest caliber. The Best Lawyers list is compiled by conducting comprehensive peer-review surveys in which tens of thousands of leading lawyers confidentially assess their professional peers. Gaining recognition in Best Lawyers is widely considered by both clients and legal professionals as a significant award. This esteemed publication has earned the respect of the profession, media and public as a trustworthy, unbiased source of legal referrals.
"It is always an honor for individuals from our law firm to be represented on this list. This recognition reflects our attorneys' commitment to providing exceptional, results-driven litigation services for our clients," says Ranse M. Partin
For over a decade, the attorneys at Conley Griggs Partin have dedicated themselves to developing experience and expertise in representing people and businesses. They fight diligently for those that have been injured or financially harmed by the negligent or wrongful conduct of others.
For more information about the law firm of Conley Griggs Partin in Atlanta, please call
(404) 467-1155 or visit http://www.conleygriggs.com
Founded in 1983, The Best Lawyers in America is based on annual peer-review surveys. Over 83,000 leading attorneys globally are eligible to vote, and Best Lawyers has received more than 13 million votes to date on the legal abilities of other lawyers based on their specific practice areas around the world. Best Lawyers lists are published in leading local, regional and national publications across the globe. The Best Lawyers in America recognizes the very best lawyers in each practice area and metropolitan region in the country. http://www.bestlawyers.com