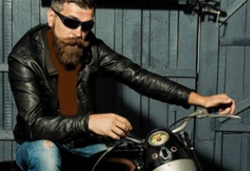 MIDDLESEX, N.J. (PRWEB) November 27, 2019
Whether you are a new or experienced motorcycle rider, you likely recognize the importance of a great pair of motorcycle sunglasses or Prescription Motorcycle Glasses. This is true whether you have an eye prescription or not. Motorcycle sunglasses can help you focus less on your eyesight while riding and more on enjoying the sights around you.
At Rx-Safety, we love working with our motorcyclist customers to help them find the best possible motorcycle sunglasses. Because of this, the following motorcycle sunglasses review can help guide you as you look for your next pair of motorcycle sunglasses in our store. With this guide, you can purchase a high-quality pair of motorcycle sunglasses that will keep you both safe and stylish.
The Benefits of Motorcycle Sunglasses
For those of you who are still on the fence, we'd like to start by discussing some of the prime benefits of motorcycle sunglasses. While this isn't an exclusive list, they center on several key attributes.

Clearer Sight: Motorcycle sunglasses can help you see more clearly on the road. Instead of squinting and finding it difficult to identify people or objects in the distance, your motorcycle sunglasses can significantly improve your sight while riding
A Safer Ride: Clearer sight naturally leads to a safer ride. The sun and other distracting light will bother you much less when you are wearing motorcycle sunglasses.
Protection From Debris: Riding on a highway or dirt road, you may come across flying dust or other debris. Motorcycle sunglasses can help protect your eyes and help you more easily focus on the road.
Add to Your Fashion Sense: Motorcycle sunglasses can look sleek and stylish. If you are looking to make an impression while you are riding your motorcycle, motorcycle sunglasses can be a terrific choice.
Types of Motorcycle Sunglasses
Motorcycle glasses come in different types, shapes, and designs. That said, we wanted to outline some of the more popular types of motorcycle sunglasses in the market today. These motorcycle sunglasses will certainly serve you well when you are on the road.
First, there are prescription motorcycle glasses. These, quite obviously, are relevant if you have an eye prescription in your everyday life. The great thing with this eyewear is that you can use your prescription while protecting your eyes on your motorcycle. Whether you need single-vision, bifocals, or progressive lenses, you will be able to apply them to your favorite pair of motorcycle sunglasses, letting you see objects and people extremely clearly.
Next are motorcycle sunglasses with polarized lenses. The main benefit of polarized lenses is that they help reduce glare. While they are helpful for wearers who work or play near water, they are also extremely beneficial for motorcycle riders. Reflections from flat surfaces (like the hoods of vehicles or pavement) can cause glare, so motorcycle sunglasses with polarized lenses can help reduce these effects.
There are also motorcycle sunglasses with polycarbonate lenses. Polycarbonate lenses provide complete protection from the sun's ultraviolet rays. Along with this, they are lightweight and are much more impact resistant (ten times, in fact) compared to glass or plastic lenses. Motorcycle sunglasses with polycarbonate lenses can help you see extremely clearly when riding on those bright, sunny days.
From here, there are motorcycle sunglasses with photochromic lenses. These motorcycle glasses are best known as Transitions lenses. These lenses are clear indoors but darken when you go outdoors. Some of the most well-known motorcycle sunglasses with photochromic lenses use "variable-tint lenses," which are activated by the sun's ultraviolet rays. These are also great options if you like riding your motorcycle at night.
Finally, you may want to check out motorcycle sunglasses with interchangeable lenses. These lenses are versatile because you can easily switch out your lenses depending on the situation. For example, you may need polarized lenses to cut down glare or lenses with a darker tint in the early morning. Ultimately, if you need added flexibility, these motorcycle sunglasses can be a great choice.
Some of the Best Brands of Motorcycle Sunglasses
At Rx-Safety, we have a wide range of motorcycle sunglasses and motorcycle prescription sunglasses. But you may be asking yourself: "What are some of the best brands?" While you will want to purchase motorcycle sunglasses that suit your own preferences and needs, here are some of the top brands in motorcycle sunglasses today. To explore our collection of motorcycle sunglasses for these brands, feel free to visit this page and search for the brands that most interest you.
First, there is Wiley X. The company originally created eyewear for the military, but it has expanded to offer a vast selection of high-quality motorcycle sunglasses. Much of Wiley X's eyewear meets the strictest of safety standards (like standards from the American National Standards Institute ("ANSI")), which can give you the confidence that your eyes are well-protected on the road. Wiley X eyewear is extremely comfortable and comes in dark frame colors (like matte black). No matter the model you choose, your Wiley X motorcycle sunglasses can help you see clearly on the sunniest of days.
From Wiley X, there is Oakley. Oakley is well-known for its sleek and stylish eyewear. But even beyond wearing stylish Oakley sunglasses for a day at the beach, Oakley manufacturers some great motorcycle sunglasses. All Oakley motorcycle sunglasses are created to provide the utmost protection when you are riding your motorcycle. They contain HDO Optics with Plutonite lens technology which can provide the most clarity as you are riding. Oakley motorcycle sunglasses contain advanced anti-fog coating and a lightweight O matter frame to increase grip and comfort. These are terrific motorcycle sunglasses that can serve you well while you're on the road.
Beyond Oakley, we recommend 7Eye motorcycle sunglasses. 7Eye is yet another eyewear manufacturer that can best protect your eyes when you are riding. 7Eye motorcycle eyewear contains Airshield technology which provides a complete seal around your eyes. You won't need to worry about dust, sand, or other debris that interfere with your sight. 7Eye motorcycle sunglasses contain anti-fogging technology and come in a variety of sleek and sophisticated frame colors.
Finally, we recommend Bobster motorcycle sunglasses. These motorcycle sunglasses can help you dominate the road through their functionality and durability. Some Bobster motorcycle sunglasses in the Rx-Safety store contain photochromic lenses, which lighten when you are indoors and darken when you are riding on a bright sunny day. Many models also contain an adjustable strap, which can better secure these sunglasses as you are riding.
Features to Consider
When searching for your next pair of motorcycle sunglasses, you may want to consider the following features.
Anti-Fog Technology: When riding on a hot day, there is a chance that your eyewear can fog up, which further prevents you from seeing clearly. That said, there are some eyewear manufacturers (like those mentioned above) that include anti-fog technology in their motorcycle sunglasses. This anti-fog technology can maintain your clear vision as you are riding in virtually any condition.
UV Protection: One of the most important features of any pair of sunglasses centers on UV protection. Simply put, you want your eyes protected from the sun's harmful ultraviolet rays. Doing so will help you see clearly and will make your riding experience much more pleasurable.
Protection From Debris and Wind: When riding, there is nothing more annoying than getting dust or other debris in your eyes. Not only is it uncomfortable, but it prevents you from seeing people and objects in front of you. Some motorcycle sunglass models, however, contain technology that can keep your eyes 100 percent clear as you are riding down virtually any type of road.
Price: Last (but not least), you will want to consider the price. At Rx-Safety, we are proud to offer the highest quality sunglasses at the lowest possible prices. No matter your budget, you are sure to find a terrific pair of motorcycle sunglasses that you can afford.
One of the easiest ways to narrow down all of these features is to use the filtering options on our motorcycle eyewear page. On this page, you will see that you can narrow down our inventory by the features listed above (along with other features like face shape, frame colors, safety rating, size, and more). By selecting the features that matter most to you, you can easily find your next great pair of motorcycle sunglasses.
Protect Your Eyes Today
Motorcycle sunglasses are an essential tool for any motorcycle rider. Whether you are looking for your first pair of motorcycle sunglasses or a replacement for your current pair, we are sure that you'll be satisfied when reviewing our inventory.
So go ahead and visit our motorcycle eyewear page. Don't hesitate to use the filtering options on that page and click on particular models that may interest you. There, you will find a detailed description of their features and price.
As always, if you have any questions about a particular model or our motorcycle sunglasses collection as a whole, don't hesitate to get in touch.