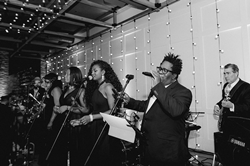 While streaming and Zooms carried us through, there is no replicating or surpassing live engagement, live bands, and live audiences digitally. The Best Wedding Band's Micro Concerts are making in-person celebrations unforgettable, says Publicist Donna Marie
NEW YORK (PRWEB) June 10, 2021
The Best Wedding Band's Micro Concerts are an excellent way for guests to be musically entertained and for the host to have an extra layer of confidence when booking big party celebrations. The performance is unique to each audience and curated for that event.
Gordon Dukes Music (A boutique entertainment agency located in New York City) created an outstanding musical production. The Micro Concert is a hybrid effort. It is a part dinner show and part concert.
They have combined the best elements of a live music concert and scaled it to an intimate, up-close musical experience.
It's a socially responsible performance, perfect for wedding receptions, galas, and functions that want high-energy engagement that only live music can deliver.
The Best Wedding Band Micro Concert brings back the fun of big parties.
The performance structure withstands the uncertainty of restrictions and prohibitive party guidelines as the nation moves forward to normalcy post covid.
"The Micro Concerts are very interactive, and we can switch gears and respond musically instantaneously. It could be the dance floor packed and everyone at euphoric dance highs, or it can be guests seated listening intently, all instances, and everything in between.
It is a continuous musical experience.
The quality and execution of music should always excite and entertain. That guests are more fulfilled, and the event is much more memorable when attendees are equally happy to listen as dance.
It's not a one-size-fits-all product but packed with a broad selection of music genres and song list choices. There is an excellent time for all at each concert." said Gordon Dukes, CEO and Band Leader
The Best Wedding Band's song repertoire is a musical journey. Concert music setlists are chosen from several hundred songs and will likely contain many favorites relatable to the audience and attendees.
"We will perform the most obscure and least played iconic tune right along with the popular music and never miss a beat. The shows are unique and special. The talent on stage knows music and has extraordinary skills. They are performing decades of songs with the Micro Concerts without running out of material.
We are not the average ensemble. An attribute that sets us apart and delivers that magical experience for the audience is the dedication of our talent. The musicians and vocalists are constantly in the recording and rehearsal studios arranging and exploring music. When it's showtime, everyone is excited and ready to go. The performance is truly a gift of music, commented Donna Marie, Bands Publicist.
The music performed is eclectic: Contemporary cover tunes, Motown, Top 40, Swing, Jazz to Rock n Roll, Soft Rock to Country Music to R n B, Dance Rap, and original compositions.
With the Micro Concerts, it is truly live music. The Best Wedding Band performs without any pre-recorded tracks or mechanical adaptations.
A multitalented and experienced group of artists, all live instrumentation, and the music delivery replicated to the original recording, much to the guests' delight.
Reminiscent of a favorite Artists' concert, expect to hear a diverse selection of favorite music. The Micro Concert playlist resonates with audiences of all ages.
"We've seen a shift in demand; clients seem to be searching for bands a bit differently. The mood is quality over everything. We're happy to be known for that memorable live music experience, and we're delighted to be back doing what we all love to do", added Donna Marie
Background:
After moving to NYC in the 1980s, Gordon Dukes zeroed in on his music career. He is a singer/songwriter/music producer who performed with Legendary Stevie Wonder, Kool and The Gang, Shaggy, and many others. And he is regarded within the music industry for his powerful vocals and vocal arrangements for A-list. His decades of experience and great connections in the music industry have allowed him to create a brilliant and talented band with over 50 years of experience collectively and thousands of hours of live shows under its belt.
Concert-trained vocalists and musicians are an integral aspect of The Best Wedding Band. Experts in sound, audio, production and logistical planners round out the music agency. Together, they bring the technique, quality, and professionalism of a world-touring band to the smaller band stage.
"Micro Concerts are great. We execute each show to fit the special day perfectly. It brings even more than we've had before covid," commented Dukes.
###