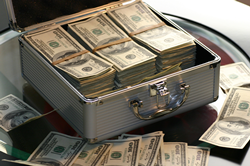 The infusion of new players, capital and innovation into American healthcare is driven by the acknowledgement that the healthcare industry has a responsibility and a real opportunity to improve every dimension of the care experience - Kevin Fleming, CEO, Loyale Healthcare
LAFAYETTE, Calif. (PRWEB) June 05, 2019
Fueled by market demand and investor capital, the landscape of healthcare is changing dramatically. This change will have a significant effect on the patient, the healthcare provider and the healthcare insurance industry. This evolution is driven by the belief that innovative technologies and business models can cure the industry's long-challenged lack of transparency and systemic inefficiencies to become more competitive, consumer-centered and financially rewarding.
Banks Enter the Healthcare Industry
A point in fact is the recent announcement of JP Morgan Chase buying medical payments technology firm InstaMed to push more deeply into the $3.5 trillion market for U.S. health-care spending. JP Morgan is paying more than $500 million for the business, making it the lender's largest takeover since buying Bear Stearns and the bank assets of Washington Mutual in 2008, according to people with knowledge of the situation.
The move shows that the nation's largest bank views the fast-changing world of payments as a battleground worthy of aggressive wagers. When it comes to keeping pace with emerging technology in payments, lending or investing, JP Morgan has typically partnered with fintech firms in the past rather than acquired them. The purchase of Instamed might be an indication of the accelerating velocity of acquisitions and mergers designed to capture a larger portion of the $3.5 trillion market more quickly.
According to Takis Georgakopoulos, the bank's head of wholesale payments, the decision was based on the vast size and complexity of the market: U.S. health spending which is projected to reach $6 trillion by 2027, according to the Federal Centers for Medicare and Medicaid Services.
The entry of a bank into the healthcare industry likely signals just the first of many acquisitions and mergers designed to offer a more comprehensive suite of services to the patient. It probably won't be long before other high-profile banks like Goldman Sachs, Morgan Stanley, Citigroup, Bank of America and others enter the fray. Possible acquisition targets will be handicapped by their ability to feed financial services platforms core product volumes. Many potential acquisition targets are also pursuing their own acquisition strategies for fully integrated Revenue Cycle Management services and include companies such as WayStar, NThrive and Change Healthcare.
Investing in the Platform Model
The rush of capital into healthcare points toward the growing importance of the integrated healthcare platform – an operating concept that combines seemingly unrelated companies to provide integrated, comprehensive services to the consumer. The combinations here are endless so long as the real promise of business synergies exist as evidenced by Global Payments acquisition of Advanced MD for $700 Million in 2018 connecting one of the largest merchant processors in the country with a Provider Practice Management Services company
Healthcare Services Platforms have far reaching effects beyond the creation of technology platforms. The innovation made possible using a technology-enabled platform such as Loyale's PFM suite shows the potential to transform healthcare, from change-averse and slow-moving into a dynamic industry attracting new and diverse industry players.
Insurance Companies Merge with Drug Stores
In another approach to establishing a health services platform by combining unexpected services and solutions, on November 28, 2018, CVS, a drug store company, completed the acquisition of Aetna, a Health Plan operator to create CVS Health.
The transition of CVS from a drug store chain into a healthcare company actually started in 2007 with the purchase of Caremark, a third-party pharmacy benefit manager program that negotiates prescription drug benefits for commercial health plans.
By acquiring Aetna, CVS intends to increase their bargaining power against major pharmaceutical companies. It will also be able to remain competitive against a potential Amazon entry (Haven) despite the considerable operating overhead incurred by its widespread brick and mortar presence.
And even if Amazon opts against selling prescription drugs, the Aetna deal could give CVS a big advantage to gain market share over Walgreens, Walmart, and any other company that operates a pharmacy.
Two other major entities have also now attached to powerful health insurance companies. OptumRx, another major pharmacy manager, is owned by UnitedHealth Group. And Anthem, which operates for-profit Blue Cross plans in several states, is developing its own in-house pharmacy operation.
The Amazon Platform - Haven
Amazon CEO Jeff Bezos, J.P. Morgan CEO Jamie Dimon and Berkshire Hathaway CEO Warren Buffett last January announced they were teaming up to tackle rising health-care costs. They formed a nonprofit company intended to change the way people experience healthcare so that it is simpler, better, and lower cost.
In addition to its new healthcare brand, Haven, the company also unveiled a website with more details about the venture, which details a number of areas of focus. These include: improving the process of navigating the complex health-care system, and accessing affordable treatments and prescription drugs.
According to the company's website, Haven is interested in working with clinicians and insurance companies to improve the overall health-care system. This may suggest that the venture wants to work with existing players such as insurers, providers and pharmacy benefit managers rather than uprooting or supplanting them.
What this Means to Patients and the Providers that Serve Them
Ordinarily, the reduction of competition through consolidation might lead to higher consumer costs and fewer choices. But with potential disruption from consumer-focused competitors like Haven, this trend has positive implications for patients.
At the center of all of this investment and consolidation, it is apparent that healthcare providers must develop Health Services Platforms that focus on the needs of the patient. The benefits to patients could include: lower costs for drugs through large scale purchases, one stop shopping for healthcare services, more efficient services and more proactive clinical and financial care.
The existence of these platform components gives healthcare providers a big leg up in the development of their own platforms, but there are obstacles that must be overcome. Most of these obstacles are directly related to what we assert are outdated perceptions of key assets. To elaborate:

Rethink relationships with patients (healthcare consumers) – In the platform model, an engaged consumer is the most valuable asset of all. Preserving and enriching those relationships is an imperative. It's not easy but the benefits are enormous. Loyal consumers are more likely to return and make referrals. They're also more likely to look to their healthcare "brand" for other products and services. Their faith in the organization makes them stickier, less susceptible to competitor claims and prices and a longer-term source of revenue.
Rethink the provider value proposition – While the foundational value proposition, great clinical care, will always be dominant, the platform model opens the door to a wide variety of other health and healthcare related products and services that add value for a provider's patients and offers the potential for enhanced provider revenue. In this scenario, a provider may have the opportunity to engage with complementary service providers, creating revenue generating exchanges that enhance the patient experience and support the brand relationship. The ability to provide world class financial care to patients should always be on the executive agenda. Leveraged technology platforms can be particularly invaluable here in large scale B to C operating environments.
Rethink patient/consumer data – Understanding that much of the information a provider gathers is personal and protected, there remains a wealth of information a provider can use to better understand its own behavior and the behavior and expectations of the people it serves. The key here is to harness that data to, 1) better understand what's working in the organization, 2) identify what's not working – isn't profitable or is underperforming and, 3) Make informed decisions about what to do next. What improvements or investments need to be made? What product or service enhancements can be added? The most successful Healthcare Networks in the future will figure out how to monetize such data in the context of superior clinical and financial outcomes for both themselves and of course their patients.
The infusion of new players, capital and innovation into American healthcare is driven by the acknowledgement that the healthcare industry has a responsibility and a real opportunity to improve every dimension of the care experience - from clinical diagnosis, treatment and outcomes to financial diagnosis, treatment and outcomes as platform-based solutions break down the current silo effect and result in one integrated patient experience.
The emergence of healthcare platforms and the transformation and consolidation of the healthcare industry will be a catalyst for tremendous positive change. For healthcare providers, a business strategy to capitalize on the power of the platform is vital to be on the winning side of this paradigm shift.
Kevin Fleming is the CEO of Loyale Healthcare
About Loyale
Loyale Patient Financial Manager™ is a comprehensive patient financial engagement technology platform that improves the probability of patient payment. Leveraging a suite of configurable solution components including consolidated patient billing, predictive analytics, intelligent workflows, multiple patient financing vehicles, communications, payments, portals, managed provider workflow, common point solutions integration and other key capabilities, Loyale delivers exceptional experiences to patients and providers alike.
Loyale Healthcare is committed to a mission of turning patient responsibility into lasting loyalty for its healthcare provider customers. Based in Lafayette, California, Loyale and its leadership team bring 28 years of expertise delivering leading financial engagement solutions for complex business environments. Loyale currently serves approximately 2,000 healthcare providers across 48 states. Loyale recently announced an Enterprise level strategic partnership with Parallon including deployment of its industry leading technology to all HCA hospitals and Physician Groups nationwide.-