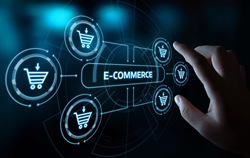 There's an assumption that Latin America is a prohibitively difficult place to do business. That's simply not true. It's complex, but the tools exist to make it manageable.
MIAMI (PRWEB) December 28, 2020
Retail ecommerce sales in Latin America will reach $86.6 billion in 2020, up almost 20% from 2019. Latin American ecommerce sales for 2023 are projected to reach $116.2 billion, representing 7.1% of total retail sales for the region.(1) For all its promise, however, many U.S. ecommerce merchants continue to be reluctant to enter the Latin American market. "There's an assumption," says A.J. Hernandez, president and CEO of international business-to-consumer shipping firm SkyPostal, Inc., "that Latin America is a prohibitively difficult place to do business. That's simply not true. It's complex, but the tools exist to make it manageable."
In fact, says Hernandez, the Latin American market represents a major opportunity for U.S. ecommerce. The region has a total population of more than 656 million(2); Brazil, where ecommerce sales jumped 57% in the first five months of 2020(3), is the world's seventh most populous country(4) and ranks among its top 10 economies in terms of GDP.(5)
Much of the reputation for difficulty in this market, says Hernandez, stems from merchants' attempting to access it via the United States Postal Service, and encountering delivery times of three weeks and sometimes longer. He notes that USPS international service works very to places like western Europe or Japan, but badly for Latin America. "It's not USPS's fault," says Hernandez. "The post office is only as good as its partner in the destination country, and in Latin America they're dealing with bankrupt and dysfunctional postal authorities that provide, frankly, horrible service.(7)"
Encountering this situation, says Hernandez, has led many merchants to believe that their only alternative is to ship via the large, well-established—and very expensive—international carriers. In most cases, this is not a reasonable business proposition, as the shipping cost can easily outweigh the value of the parcel.
And yet, Hernandez notes, Latin America has flourishing economies and a major ecommerce boom. How do they do it? To fill the gap between unacceptable postal service and unaffordable international shipping rates, says Hernandez, merchants turn to private delivery networks that understand Latin America's complex taxation and custom issues and offer timely, trackable, reliable delivery service throughout the region, at rates far below those of the major international carriers.
Hernandez offers his own company, SkyPostal, Inc., the largest and best established of the private Latin American networks and part of Amazon's Seller Provider Network, as a case in point. "We handle all customs clearances, include payment of taxes and duties. Then we handle the last-mile delivery. Throughout, our clients and their customers can track delivery of the shipment online, in real time."
Latin America, Hernandez concedes, is a large, complex, and in some ways difficult place. It's complicated to import cosmetics into Mexico, even though U.S. cosmetics brands and products are in great demand there. He added "The big players simply stopped offering the delivery of cosmetics, but we found solutions for our clients.". "If you're going to deliver into Latin America," he says, "you have to be prepared to deal with these things." On the other hand, he emphasizes, there is a great deal of money to be made in Latin America, and an eager, growing online market for U.S. goods. As to his own company's position in the region, Hernandez says, "We provide solutions to things that the post office can't, and the big boys don't care enough to provide. And I think that separates us."
About SkyPostal:
SkyPostal was created in 2001 to meet the need for improved and efficient cross-border mail and parcel service from the United States and Europe to all countries in Latin America, the Caribbean, and Mexico. It is now the largest private mail and delivery network in Latin America, serving European postal administrations, major publishers, the world's largest ecommerce retailers, international shippers, and financial institutions that require reliable and secure delivery of their mail and parcels. For more information, please see http://www.skypostal.com.
1. "Commerce Trends for Latin America in 2021: EBANX Blog." business.ebanx.com/en/blog/the-major-e-commerce-trends-for-latin-america-in-2021.
2. "Latin America and the Caribbean Population (LIVE)." Worldometer, worldometers.info/world-population/latin-america-and-the-caribbean-population/.
3. Mello, Gabriela. "Brazil Ecommerce Jumps 57% in First Five Months of 2020 Fueled by COVID-19." Reuters, 23 June 2020, reuters.com/article/brazil-ecommerce/brazil-ecommerce-jumps-57-in-first-five-months-of-2020-fueled-by-covid-19-idUSL1N2E02QI.
4. "U.S. Census Bureau Current Population." Current Population, census.gov/popclock/print.php?component=counter.
5. Silver, Caleb. "The Top 20 Economies in the World." Investopedia, Investopedia, 18 Sept. 2020, investopedia.com/insights/worlds-top-economies/.
6. "International Mail Services & Shipping Rates." USPS, usps.com/international/mail-shipping-services.htm.
7. P. Bose, et al. "Which Country Has the World's Worst Postal Service?" CLASSIC LATIN AMERICA, 28 Oct. 2018, classiclatinamerica.com/which-country-has-the-worlds-worst-postal-service/.