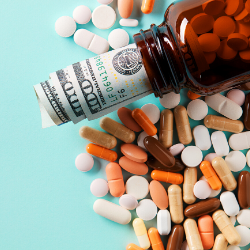 "Transparency isn't enough. There has to be accountability. We allow our customers to see all components of their pharmacy claim data."
GAINESVILLE, Ga. (PRWEB) December 10, 2019
As drug prices continue to rise at a significant rate, hindering efforts to restrain overall healthcare costs, lawmakers and industry insiders are calling for major changes to the industry's pricing formularies and payment strategies. The action comes as the practices of drug makers, insurance companies, and particularly Pharmacy Benefit Managers (PBMs) have come under scrutiny following government studies revealing little to no transparency in the areas of pricing and reimbursement schemes [1]. "Transparency isn't enough," said LaMar Williams, Executive Vice President of MC-Rx. "There has to be accountability. We allow our customers to see all components of their pharmacy claim data. Our clients can see the details of every claim processed, including the patient copay, amount billed to their plan, and the ultimate pharmacy payment. They can opt to receive pass-through pricing at the same rates as are paid to the pharmacy. We are open, honest, and completely auditable. Open access is the key, and we call on all PBMs to operate in the same way."
The new transparency laws, which are in effect in Vermont, Nevada, California, and Oregon, provide states the ability to collect common elements about drug pricing, such as data concerning both brand name and generic drugs; drug prices and percentage increases over time; production costs, including manufacturing and marketing; sales revenue and profit; and money spent on patient assistance programs. Their purpose is to provide lawmakers and consumers visibility into the process by which pricing is calculated [2].
Williams believes complete accountability is the most effective way for PBMs to ensure they remain commercially viable and true to their mission, which is to work with pharmacies and insurers to find ways to lower drug costs for consumers while improving the healthcare delivery system – a mission he believes has been forgotten at many larger PBMs. This makes it harder for everyone.
"Strong, independent, (privately-owned) PBMs provide value to the pharmaceutical industry and to patients. In an age of vertical integration and mergers, it's important that clients, insurers, and payers have options and that competition doesn't disappear," he said.
Lawmakers in Maryland agree. They passed price-gouging legislation that authorizes its attorney general to instruct the circuit court to fine drug manufacturers that raise the price of generic drugs by 50 percent or more within 12 months – and subsequently return funds to patients and payers. The pharmaceutical industry is contesting the law in court, but similar legislation is being considered in multiple other states [3].
Physicians support the legislation, as well as improved transparency and accountability around PBMs. A report issued by the American College of Physicians highlighted "the need for reliable, timely, and relevant information on prescription drug pricing for physicians and patients [4]."
According to experts, the role PBMs play in reducing healthcare costs has increased in scope in recent years, at the same time that government and consumer confidence in their operations has decreased.
"We believe in accountability, so we put our money where our mouth is, and we encourage all the PBMs out there to do the same," said Williams. "That should be the industry standard."
About MC-Rx
MC-Rx is a full-service Pharmacy Benefit Manager (PBM) with corporate offices in Gainesville, Georgia and Caguas, Puerto Rico, which focuses on transparency, best-in-class service, and offering clients "lowest net cost." MC-Rx was formed by combining two URAC-accredited, world class PBM's - ProCare Pharmacy Benefit Manager and mc-21. The ProCare companies were founded in 1988 with the vision of providing innovative computer software systems and services to various sectors of the healthcare industry. ProCare processed their first pharmacy claim in 1994 using their proprietary, internally developed and managed systems, and expanded in 1998 to full-service pharmacy benefit management through the acquisition of NextGen PBM. Today, the ProCare companies also include two affiliated mail order and specialty pharmacies, ProCare PharmacyCare, and are one of only four PBM providers that own all of their component systems. MC-Rx now provides comprehensive, industry-leading service to clients in Puerto Rico and the U.S. Visit http://www.mc-rx.com/.
1."GAO Highlights," Government Accounting Office, July 2019
2."California's new transparency laws show staggering rise in wholesale drug prices," Los Angeles Times, October 11, 2019
3. "Maryland Passes Nation's First Prescription Drug Affordability Board Legislation," National Academy for State Health Policy April 15, 2019
4. Policy Recommendations for Pharmacy Benefit Managers to Stem the Escalating Costs of Prescription Drugs: A Position Paper from the American College of Physicians," Annals of Internal Medicine, November 12, 2019