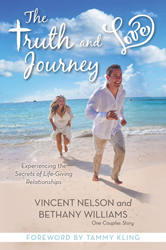 You deserve a healthy and loving relationship. So what's standing in your way? The answer may be easier than you think.
DALLAS (PRWEB) August 19, 2020
As seen on Grant Cardone TV, RoadGrit TV, & Elena Cardone's show Women in Power
TEDx speaker Bethany Williams was single and had given up hope for a lasting relationship when we she was introduced to Vince Nelson. Through their unexpected partnership, thousands of couples' lives have been transformed.
Carpenter's Son Publishing announces the release of their newest book, The Truth and Love Journey: Experience the Secrets of Life Giving Relationships written by Vincent Nelson & Bethany Williams. Each of us has a deep driven desire to share their life with someone authentically. How do we find the spark that we have seen in others and have been searching for in either in a dating relationship or even in marriage that can create a great relationship, fantastic life long lovers, and sex to last a lifetime? And for the thousands that Bethany and Vince call '2nd chance singles,' those divorced or widowed later in life and looking for a second chance at love and life, how can they maneuver the land minds of past loss and painful life wounds in order to start afresh? The answer is here.
Vince and Bethany are passionate about relationships.
"I've read numerous relationship books and this is the best one I've read. The authenticity and vulnerability draws you in and causes the reader to look inward to begin your own truth and love journey. I've already shared it with a friend who read it and was impacted by it." Ron Hall, Author of Paramount Pictures "Same Kind of Different as Me", Speaker, art dealer and philanthropist.
Real Couple. Real Advice. Bethany and Vince, America's top relationship experts speak on:

Relationship and family stress during COVID19
The secret to love
Communication tips to strengthen relationships
The increase in divorce during the pandemic
Learn more at: http://www.TruthandLoveJourney.com. Available on Barnes and Noble, Amazon and other fine bookstores.
More about Bethany Williams
Known as an IT executive, speaker, and author, Bethany Williams helps people launch their own life adventure. Her resume includes senior leadership experience acting as a growth agent for companies like IDX, General Electric, Perot Systems, PWC, ZirMed, and Office Practicum. Coupled with her powerful corporate background and wisdom gained from the loss of two husbands, being a single mom, and overcoming physical pain and limitations, Bethany's strength in relationships is helping people identify their areas for growth, overcome adversity, and move forward in life. In search of an authentic lasting connection, she and Vince set off on a relationship adventure that would not only transform their lives, but also thousands around them that watched the journey from afar.
More about Vince Nelson
Vincent Nelson, founder and financial advisor for Arno Wealth and managing partner of The Church Guys, firms offering financial management for both for profits and not-for-profit organizations, was a pastor for seventeen years. He has helped thousands of people identify the soul issues within; issues of the mind, the will, and emotions that keep people from experiencing healthy relationships. Having walked through his own healing journey from deep painful childhood issues, he learned the steps to becoming a healthy individual and learned the secret to experiencing vibrant relationships. The two unique stories of their broken lives colliding together in an impossible way created an experience they'd never imagined, deep connectedness and life-giving intimacy.