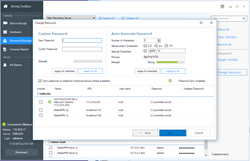 "The Boring Toolbox is a really exciting verified Milestone Technology Partner product that fine-tunes the operational side of managing medium-to-large XProtect systems," said Jeremy Scott, Strategic Alliances Program Manager - Americas, Milestone Systems
LOS ANGELES, Calif. (PRWEB) November 14, 2018
The Boring Labs debuted today, announcing its Boring Toolbox, a series of functional tools that help enterprises and integrators more efficiently manage medium-to-large distributed video surveillance/security networks using Milestone XProtect® Express+, XProtect® Professional+, XProtect® Expert and XProtect® Corporate. Initial tools include hardware/device name, password and device-group management that reduce the time spent on these manual functions by up to 97%.
"While working as a leading Milestone integrator, we found that our customers regularly ignored cybersecurity compliance recommendations for passwords because of XProtect's inability to change passwords in bulk. Tasks such as camera grouping were arduous and manual and could take system administrators hours or days to complete," said Ronen Isaac, CEO of The Boring Lab. "We've created The Boring Toolbox to make managing Milestone XProtect installations easier and less boring."
The Boring Lab's newly developed application programming interface (API) is optimized to work with the Milestone software development kit (SDK) to improve application speed and user experience for greater performance and flexibility. Initial functions include:

"The Boring Toolbox is a really exciting verified Milestone Technology Partner product that fine-tunes the operational side of managing medium-to-large XProtect systems," said Jeremy Scott, Strategic Alliances Program Manager - Americas, Milestone Systems. "With The Boring Toolbox, our customers and system integrators can see an exponential decrease in time spent on management functions. We look forward to seeing more features added by the team at The Boring Lab."
The Boring Toolbox is a Windows-based application available immediately at http://www.theboringlab.com. Additional features and functionality will be introduced by The Boring Lab and will be available at no charge to all Boring Upgrade Subscribers. Package prices start at $999 to manage up to one hundred cameras. More cameras can be added in increments of ten. Product demonstrations are available on YouTube.
About Boring Labs
The Boring Lab has had over 10 years of experience installing Milestone XProtect systems with our integration company, Continental Computers. After installing Milestone for hundreds of partners, we figured there had to be a better way to manage some of the most boring administrative functions of Milestone XProtect systems. After rebuilding the Milestone web services API, we can now deliver more efficient password, device group, device naming and reporting functions, saving administrators of medium-to-large Milestone deployments hundreds of hours every year..and..well..make their job less boring. The Boring Labs is a certified Milestone Solution Partner and Axis Development Partner.