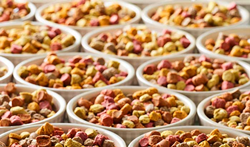 READING, Pa. (PRWEB) May 22, 2019
Chr. Hansen is meeting the changing market trends and using their 140 years of knowledge and innovation to offer natural pet food alternatives. Chr. Hansen recently announced a new natural color line for the pet food market. This line consists of 28 naturally sourced colors for use in cat and dog food applications such as dry, semi-moist, and treats. The extensive range provides the most common shades for pet food – yellow, orange, red, and brown.
"Our continued collaboration with Chr. Hansen demonstrates Brenntag's commitment to providing innovative solutions and value to our customers. Chr. Hansen's new line will meet consumers' growing demand for natural colors and ingredients for their pet's food," stated Larry Davis, Vice President Brenntag Food & Nutrition North America.
"We are pleased to work alongside Brenntag in the United States. They continue to bring a lot of knowledge and passion about natural colors, and together we can support our joint customers with conversion from artificial colors to natural within multiple pet food applications. With our products and know-how, we help our customers achieve solutions that are right for their brand," explains Rikke Sakstrup Frandsen, Pet Foods Industry Business Manager, Chr. Hansen.
About Chr Hansen:
Chr. Hansen Natural Colors is the only provider of natural colors that combines 140 years of unique application and regulatory expertise with a strong global presence and the widest natural color portfolio in the industry. We are experts at helping companies convert to and utilize natural colors. All our raw ingredients are specifically sourced from nature to offer bright and consistent solutions. Together with sister bioscience company Chr. Hansen, we are part of Chr. Hansen Holding with more than 3,000 employees in 30 countries. Chr. Hansen was founded in 1874 and is listed on Nasdaq Copenhagen.
For more information on Chr Hansen, please visit https://www.chr-hansen.com/en
About Brenntag Food & Nutrition:
The Food & Nutrition business unit of Brenntag, part of the Brenntag Group, is a leading provider of food ingredients to the market places around the globe. We built a reputation of partnering with the best suppliers of ingredients and additives and deliver right to our customers' needs and requirements. With more than 750 dedicated employees, a presence in 73 countries and 28 application and development centers, Brenntag's Food & Nutrition unit provides technical expertise, tailor-made formulation and application solutions, a broad portfolio of specialty and commodity ingredients and profound industry know-how in the segments meat, poultry & fish processing, bakery & bread, dairy & ice cream, beverages, chocolate & confectionary, convenience food and fruit & vegetable processing. Brenntag's Food & Nutrition unit makes its business partners "Sense the difference."
For more information, please visit http://www.brenntag.com/food-nutrition
Credits: The Brenntag logo is a registered trademark of Brenntag AG or its subsidiaries.
Any other trademarks are the property of their respective owners.