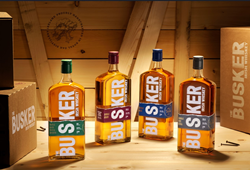 NEW YORK (PRWEB) February 28, 2023
The Busker Irish Whiskey is thrilled to announce a series of 2023 activations to honor its Irish heritage throughout the United States. The "new to world" Irish Whiskey is celebrating St. Patrick's Day this March at holiday parades and festivals across the Country, along with a college basketball championship sweepstakes contest. The Busker will also be partnering with The WhiskyX for national experiential events in eleven American cities throughout the year.
The Busker is born out of a modern Ireland, where the contemporary and bold meet at the crossroads of tradition. It offers the full range of Irish whiskeys - Single Grain, Single Malt, Single Pot, and the Blend Triple Cask Triple Smooth – able to satisfy every taste. Mixing heritage and history with a modern world, The Busker is celebrating its culture in contemporary ways with a series of St. Patrick's Day Immersive Experiences this March.
Throughout March, a month-long celebration includes on-premise activations in and around three parades and two festivals in five key market cities across the United States. The first three events occur on March 11 during St. Patrick's Day parades in Chicago and Phoenix and the Irish Whiskey Festival in New York City. The Busker will be flowing like the emerald waters of the dyed Chicago River during the city's annual parade while the Phoenix Parade and Faire will feature products as well. That same day, the Big Apple will welcome The Busker to its annual Irish Whiskey Festival with a curated, immersive experience for whiskey rookies and aficionados alike. The month's activities conclude in Boston on March 19 with their annual St. Patrick's Day parade.
Highlighting the Triple-Cask Triple Smooth Blend of The Busker, the Irish whiskey brand is also "Going for Three" with the Busk It! college basketball championship sweepstakes contest. Participants will have a chance to win prizes, including tickets to the 2024 Championship Game next year.
In addition to the March activations, The Busker will also be involved in The WhiskyX Festival to drive sips to lips and promote brand education through entertaining and immersive experiences.
About The Busker
The Busker is a "new to world" Irish Whiskey born out of modern Ireland, where the contemporary and bold meet at the crossroads of tradition. The Busker is produced at the Royal Oak Distillery, in County Carlow, Ireland, located on an 18th-century estate in Ireland's Ancient East region. Royal Oak Distillery is the home of The Busker Irish Whiskey, the only brand offering the full Irish whiskey experience – pot still, malt, and grain and the blend of them – all proudly produced under one roof. Thanks to this, it has released all three classic Irish styles of whiskey - Single Grain, Single Malt, (awarded the 2020 Platinum Medal, Best Irish Whiskey by the L.A. Spirits Awards), & Single Pot Still (awarded the 2020 Gold Medal by the L.A. Spirits Awards), which make The Busker Single Collection. The Busker portfolio also includes The Busker Blend which is a beautiful blend of The Single Collection and awarded the 2020 Gold Medal by the L.A. Spirits Awards. The Busker uses different hand-selected casks during the maturation process of their whiskeys including Bourbon casks, Sherry casks, and rare Marsala casks from one of the oldest wine cantinas in Sicily (Cantine Florio 1833). For more information, visit http://www.thebusker.com and join the conversation at @thebusker_official