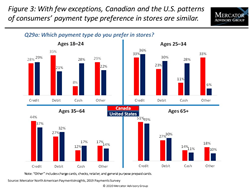 BOSTON (PRWEB) March 19, 2020
Mercator Advisory Group's latest research report, The Canadian Credit Card Market, ties together recent consumer surveys in Canada in Mercator's North American PaymentsInsights series and draws from Mercator's global payments database to provide a view of the future of Canadian payments.
Readers will see that the Canadian card industry has unique features distinct from U.S. payments. The research report describes six industry-shaping trends that fit the market well and provide a strong foundation for the future.
This research showcases Mercator Advisory Group's recent extension of is surveys beyond the U.S. market as well as Mercator's global payments database. The report draws from survey data in the Canadian edition of Mercator's North American PaymentsInsights, a powerful research asset, which recently expanded into Europe. Readers will also get a glimpse at Mercator's global payments database, which provides analytics for more than 100 countries.
"Canada has a long history of innovation in payments with differences from the United States card market. Innovations include Interac, which was originally a domestic debit payment scheme that ran outside the traditional branded network payment scheme. The nonprofit model converted to a profit-making venture similar to the path Mastercard and Visa took in the early 2000s. The market also has a progressive Code of Conduct that better positions merchants in the payment scheme," comments Brian Riley, Director of the Credit Advisory Service at Mercator Advisory Group and the author of the research report. He adds that "nontraditional lenders and technology play an important role in Canada."
Highlights of the research report include:

Number of cards in circulation and number of active accounts in Canada
Canadian credit card transaction volume
Canadian consumers' credit preferences by age cohort
Requirements of the Code of Conduct for the Credit and Debit Card Industry in Canada
A discussion of of the uneven success of U.S. card issuers in Canada
Canada's strategies for voluntary reduction of interchange
Ontario's push to increase minimum-due payments.
This document contains 14 pages and 4 exhibits.
Companies mentioned in this research report include: Alberta Treasury Branches, Bank of Montreal, Caisses Populaires Desjardins, Canadian Imperial Bank of Commerce (CIBC), Canadian Tire Bank, Capital One, Chase Cards Canada, Citizens Bank, Credit Union Electronic Transaction Services, Home Trust, Interac, Laurentian Bank, Mastercard, MBNA Canada, National Bank of Canada, President's Choice Financial, Royal Bank of Canada, Scotiabank, Toronto Dominion Bank (TD) , and Vancouver City Savings Credit Union, and Visa.
Members of Mercator Advisory Group's Credit Advisory Service have access to this report as well as this service's upcoming research for the year ahead, presentations, analyst access, and other membership benefits. Members of Mercator's Global Payments Advisory Service also have access to this report.
For more information and media inquiries, please call Mercator Advisory Group's main line: (781) 419-1700 or send an email to media@mercatoradvisorygroup.com.
For free industry news, opinions, research, company information, and more, visit us at http://www.PaymentsJournal.com.
Follow us on Twitter @ http://twitter.com/MercatorAdvisor.
About Mercator Advisory Group
Mercator Advisory Group is the leading independent research and advisory services firm exclusively focused on the payments and banking industries. We deliver pragmatic and timely research and advice designed to help our clients uncover the most lucrative opportunities to maximize revenue growth and contain costs. Our clients range from the world's largest payment issuers, acquirers, processors, merchants and associations to leading technology providers and investors. Mercator Advisory Group is also the publisher of the online payments and banking news and information portal PaymentsJournal.com.