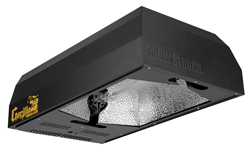 We truly believe that we have created the gold new standard in commercial grow lights.
SANTA ROSA, Calif. (PRWEB) November 01, 2019
Starting today, the new DE Pro Series from Gorilla Commercial Lighting is available for purchase. Designed to withstand the rigors of the ever-growing commercial cannabis cultivation industry, the DE Pro Series features a low-frequency square wave design which results in an incredibly low failure rate and increases the lamp's lifespan by 50% compared to the industry's more common high-frequency sine wave ballasts. An optional Gorilla Commercial intelligent digital lighting controller is also available now, capable of controlling over 500 luminaires simultaneously.
Square-wave technology offers a myriad of benefits over the industry-standard high-frequency sine wave ballasts, including optimum PPF, less depreciation of output, and significantly greater reliability. While most standard sine wave fixtures operate at a high frequency of roughly 120,000 hertz, square wave ballasts run at about 120 hertz, so maximum voltage is provided to the lamp for a longer period of time. This produces more photons for your plant, eliminates RF interference, and produces considerably less stress on the fixture, improving the performance of the lamp and allowing it to run cooler. All this adds up to a more reliable, better performing grow light, so cultivators can focus on growing, not maintaining or repairing their fixtures.
"Most DE manufacturers will tell you that a 5% failure rate is to be expected," said Gorilla CEO Rory Kagan. "In some cases that number can reach as high as 15%. The DE Pro Series has been meticulously manufactured with the highest quality control standards, and we've managed to drop that failure rate to under 0.1%. We truly believe that we have created the gold new standard in commercial grow lights."
Gorilla's DE grow light sports an optimized reflector design for broad, even PPFD throughout the footprint with no hot spots, and a durable powder-coated enclosure ensuring correct reflector form factor and eliminating the potential for dangerous exposed hot metal surfaces that often plague traditional DE grow lights. Additionally, the internal components are silicon coated to protect against humidity and dust, and an overengineered heatsink and thermals ensure the light will run cooler than any other DE available today.
The Gorilla Commercial Lighting DE Pro Series is now available at GorillaGrowTent.com with a retail price of $529.95. For commercial level inquires, contact a Gorilla lighting expert for a custom digital lighting plan at 855-448-4769. For more news and information, please sign up for updates at gorillagrowtent.com