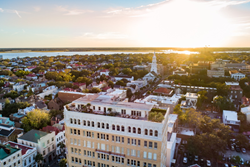 Despite the challenges we have faced due to the global pandemic, our REALTORS® at The Cassina Group continue to excel in providing first class service to our clients throughout every stage of the transaction
CHARLESTON, S.C. (PRWEB) July 10, 2020
Despite the slowdown from COVID-19, The Cassina Group had an extremely strong first half of the year, ending June as the number one boutique firm for home sales over $750,000 and $1,000,000*. The company closed or placed pending over $228.9 million in real estate through July 1, 2020, cementing their role as a leader in the Charleston market.
"Despite the challenges we have faced due to the global pandemic, our REALTORS® at The Cassina Group continue to excel in providing first class service to our clients throughout every stage of the transaction," said Owen Tyler, managing broker and partner of the firm. "Charleston continues to be a top destination for those looking to relocate. Our city's historic charm and great climate, coupled with world class restaurants and a vibrant art scene, allow for an easy transition for a permanent residence or second home."
The boutique firm, with 36 full-time REALTORS®, had several notable transactions so far this year. Robertson Allen, founding partner of The Cassina Group, represented the seller of the penthouse unit at the Peoples Building (18 Broad Street #801), a record-breaking sale for the peninsula, closing for $12 million in March. Other notable downtown sales included 24 King Street and 4 S Battery Place, with Robertson Allen representing the sellers on both transactions. 1702 Poe Avenue, a fully renovated home on Sullivan's Island with modern finishes and enviable outdoor living spaces, sold for $2,195,000 with founding partner Jimmy Dye representing the sellers. Another notable sale for The Cassina Group was in Mount Pleasant's Old Village. 207 Pitt Street, a historic yet newly renovated home with an ideal location, sold in June for $2,200,000 with Charles McIntosh representing the sellers.
Other significant sales by the company include:
672 Ellis Oaks Drive, James Island: 5 beds, 5.5 baths, 4,668 sq. ft., $2,100,000 (Robertson Allen represented the seller; Charles Baarcke represented the buyer)
7 Broughton Road, The Crescent: 3 beds, 2.5 baths, 3,300 sq. ft., $2,900,000 (Charles Baarcke represented the seller; Robertson Allen represented the buyer)
31 Salt Cedar Lane, Kiawah Island: 4 beds, 4 full baths, 2 half baths, 4,754 sq. ft., $1,850,000 (Patty Mogul represented the buyer)
316 E Arctic Avenue, Folly Beach: 4 beds, 4 baths, 3,490 sq. ft. & $1,750,000 (Meghan Webster represented the buyers)
2824 Jasper Boulevard, Sullivan's Island: 4 beds, 4 baths, 3,438 sq. ft., $2,675,000 (Charles McIntosh represented the buyers)
26 Intracoastal Court, Isle of Palms: 4 beds, 2.5 baths, 2,676 sq. ft., $1,805,000 (Jason Ogden represented the buyers)
The innovation-driven real estate firm has a proven reputation for delivering stronger results through leading-edge technology and building lasting relationships. The company has two offices in Charleston, including downtown Charleston and Mount Pleasant.
For more information on The Cassina Group, please visit their website at http://www.TheCassinaGroup.com.
*Statistics pulled from CTAR MLS on 7.6.2020
About The Cassina Group
The Cassina Group is a boutique real estate brokerage with offices in Mount Pleasant, SC and Charleston, SC. The firm is managed by Owen Tyler, partner and managing broker, and founding partners Jimmy Dye and Robertson Allen. Past awards for the company include top honors from Charleston Magazine, Inc. 5000 and SC Biz News. For more information, visit http://www.TheCassinaGroup.com or call 843.628.0008.
###