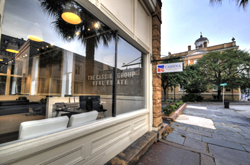 We are honored to have been named to this prestigious list, particularly during 2020 which presented many challenges to selling real estate in the Lowcountry
CHARLESTON, S.C. (PRWEB) May 27, 2021
The Cassina Group, Charleston's innovation-driven real estate company, was recognized as one of the top performing residential real estate companies in the United States. The firm landed on T3 Sixty's 2021 Brokerage Mega 1000, which analyzes and ranks the residential real estate industry's largest brokerages by 2020 sales volume. The Cassina Group, with only 38 REALTORS®, was one the smallest companies on the list by agent count.
"We are honored to have been named to this prestigious list, particularly during 2020 which presented many challenges to selling real estate in the Lowcountry," said Owen Tyler, Managing Broker and Partner of The Cassina Group. "Our REALTORS® are the best in the industry, and we are so thankful for our loyal clients who continually work with our company."
The Cassina Group was founded in 2006 by Robertson Allen and Jimmy Dye. The company has 38 full-time REALTORS® and achieved a record-breaking year 2020 with over $385 million in closed sales. They consistently rank as the No. 1 boutique firm in MLS by volume and have a reputation for delivering stronger results through leading-edge technology and building lasting relationships.
For more information on The Cassina Group, please visit http://www.TheCassinaGroup.com.
About The Cassina Group
The Cassina Group is a boutique real estate brokerage with offices in Mount Pleasant, SC and Charleston, SC. The firm is managed by Owen Tyler, partner and managing broker, and founding partners Jimmy Dye and Robertson Allen. Recent awards include top honors from Charleston Magazine, Inc. 5000 and SC Biz News. For more information, visit http://www.TheCassinaGroup.com or call 843-628-0008.