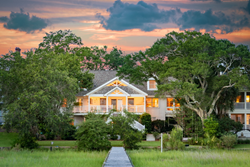 This remarkable Old Village home represents the epitome of Lowcountry living
CHARLESTON, S.C. (PRWEB) December 20, 2020
Jimmy Dye, founding partner and broker-in-charge of The Cassina Group, represented the seller of 201 Bank Street in Mount Pleasant, S.C. The notable Old Village home is located on Charleston Harbor and sold for $3,575,000.
The 3,791 square foot home sits on a 0.44 acre lot abutting Charleston Harbor and offers one of the best views in all of Charleston. A private deepwater dock with two inline pier heads provides easy access to the surrounding waterways, with a floating dock and boat lift. Sweeping views of downtown Charleston and the Ravenel Bridge can be seen from the home's porch and dock, with water views from most rooms in the home. It is also close to some of the Old Village's most popular spots including the Pitt Street Bridge, Alhambra Hall, local shops, restaurants, Shem Creek and more.
"This remarkable Old Village home represents the epitome of Lowcountry living with a private lot, spacious interior and expansive, uninterrupted views of the harbor," said REALTOR® Jimmy Dye, who was the sole REALTOR® involved in the transaction. "I am delighted to have worked with the owner on this significant sale."
The Cassina Group, Charleston's innovation-driven real estate firm, consistently ranks in the top 10 in the MLS and is the leading boutique firm in Charleston, S.C. For more information on The Cassina Group, please visit http://www.TheCassinaGroup.com.
About The Cassina Group
The Cassina Group is a boutique real estate brokerage with offices in Mount Pleasant, SC and Charleston, SC. The firm is managed by Owen Tyler, partner and managing broker, and founding partners Jimmy Dye and Robertson Allen. Recent awards include top honors from Charleston Magazine, Inc. 5000 and SC Biz News. For more information, visit http://www.TheCassinaGroup.com or call 843-628-0008.