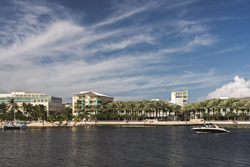 The growth in the Cayman Islands' reinsurance market can partially be attributed to the territory's high Moody's Investment credit rating of Aa3 and its growing economy indicated by a projected GDP growth of 3.0 percent by the end of 2018.
GRAND CAYMAN, Cayman Islands (PRWEB) August 15, 2018
With more than 800 insurance companies registered in the Cayman Islands by the Cayman Islands Monetary Authority (CIMA), the British Overseas Territory is emerging as an international insurance hub. One potential area for growth is Reinsurance, with more than 600 Captive insurance and Reinsurance companies and several large Reinsurance companies domiciled on Grand Cayman.
The growth in the Cayman Islands' Reinsurance market can partially be attributed to the territory's high Moody's Investment credit rating of Aa3 and its growing economy indicated by a projected GDP growth of 3.0 percent by the end of 2018.
Grand Cayman's infrastructure is particularly attractive to companies holding risks in North America due to the island's close proximity to the United States, tax neutral status, strong Anti-Money Laundering regulations and cooperative agreements with every major international regulatory authority. Additionally, CIMA has nurtured a favourable regulatory environment, which allows Reinsurers to choose adherence to an internationally recognised accounting regime that suits their lines of business.
"Domiciling in the Cayman Islands allows us to be under the same accounting regime as our clients. This makes it much easier and more transparent as we are reporting under the same requirements. It is also helpful that Cayman has not sought Solvency II equivalence which is not relevant to companies who do not have clients with an EU footprint," said David Towriss, CEO of Aureum RE, a Camana Bay tenant and leading life and annuity Reinsurance company focusing on clients in the North American market.
Another feature attracting reinsurers to do business in Grand Cayman is the high quality commercial space for lease available at Camana Bay, a New Urbanism master-planned community and financial centre, developed by Dart Real Estate. Camana Bay offers more than 700,000 square feet of Class A commercial space in an amenity-rich environment. Amenities include an extensive and accessible road network, sea-to-sound connectivity from the North Sound to Seven Mile Beach, residential properties for sale and for lease, and a thriving international school under expansion to double its current student capacity.
Home to four large Reinsurance companies – Aureum RE, Greenlight RE, Knighthead Annuity, and United Insurance Company as well as Grand Cayman's largest manager of Captive Reinsurers, Aon Insurance Managers, Camana Bay has become the location of choice for reinsurers wanting to make their mark.
"Aon plays a unique role in the Reinsurance space in that we operate at the point of convergence between those cedants looking for capital support and those with capital looking to deploy. Many of our Captive Insurance and Reinsurance Clients are Fortune 1000 clients with high expectations for our work output and value proposition. When they visit Grand Cayman I want them to experience a commercial, regulatory and physical environment that is reflective of the standard we attain as a jurisdiction fit to compete internationally," says Adrian Lynch, Managing Director of Aon Insurance Managers "Having an office at Camana Bay allows us to achieve this."
For more information on Dart Real Estate's developments and commercial real estate for lease, visit dartrealestate.com.
ABOUT DART REAL ESTATE
Dart Real Estate is a development company based on Grand Cayman in the Cayman Islands, a British Overseas Territory.
The company's flagship development is the 685-acre mixed-use, master-planned town of Camana Bay, the Caribbean's first and only community founded on the principles of New Urbanism. Dart Real Estate also manages Regatta Office Park, Flagship Building, Island Plaza and the Cayman Islands Yacht Club. It developed the residential neighbourhoods of North Creek and Salt Creek. In addition, the 26-acre Dart Nursery propagates and supplies native plants and trees for all of its developments and properties.
Dart Real Estate's portfolio continues to grow with the addition of world-class Seven Mile Beach developments, including Kimpton Seafire Resort + Spa, The Residences at Seafire and an upcoming five-star resort and residences.
Dart Real Estate strives to enhance the quality of life and to create opportunities for all in the Cayman Islands through purposeful placemaking, meaningful connections and lasting experiences that transcend bricks and mortar.
For more information, visit dartrealestate.com and keep up with the latest developments on LinkedIn, YouTube and Twitter