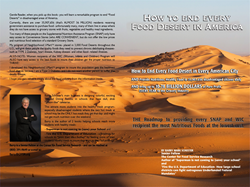 SNAP and WIC recipients have $53 BILLION DOLLARS of purchasing power ANNUALLY for ONLY nutritious food and baby items- as a semi-captive customer base. This huge revenue amount EVERY YEAR and increasing- should make any national grocery chain President's nostrils flare like a hog in heat.
Jacksonville, Florida (PRWEB) March 17, 2020
U.S. Grocery chains are ignoring the needs of disadvantaged people throughout America for easy access to healthy foods at the lowest prices in their neighborhoods to reduce diet-related illnesses, such as Diabetes, High Blood Pressure, Heart Disease, Kidney Disease and Obesity.
Hundreds of grocery stores around the country are closing- leaving thousands of employees out of work.
Even the VERY UPSCALE Fairway Markets in downtown Manhattan- with the wealthiest possible demographic of shoppers- is calling it quits.
While these supermarkets closing do not present a major problem to wealthy people (they can just get in their cars or UBER to another market miles away).
It impacts hardest on disadvantaged SNAP (Supplemental Nutrition Assistance Program) recipients and WIC (Women, Infants and Children) recipients- because they cannot jump into their Escalades™ or UBERS if there is no available full service grocery store within a reachable distance on public transportation.
According to the U.S. Department of Agriculture, there are OVER 3,000 certified "FOOD DESERTS" in America- where disadvantaged people do not have easy access in their neighborhoods to a full service grocery store selling healthy fruits, vegetables and low sodium (non-processed) meal ingredients at the lowest prices.
And NONE of the over 100 Grocery Store Chains in the U.S. are focusing on the SPECIFIC needs of SNAP and WIC recipients.
These disadvantaged people are crying out for a grocery store to meet their nutritional needs with healthy foods at the lowest prices- so their SNAP monthly purchasing is MAGNIFIED for their benefit- AND LOCATED IN THEIR NEIGHBORHOODS for easy access.
Barry Schuster, Senior Fellow at the Center for Food Service Research and noted expert on attracting disadvantaged students into the public schools' healthy meals program, has focused his expertise toward developing THE solution for this disadvantaged demographic for every city in America. E-mail: Barry@CFFSR.org
His realistic and easily scalable program called the NEIGHBORHOOD I-MART™ addresses and corrects this sad (and tremendously unhealthy) condition.
Barry's just released book- "HOW TO END EVERY "FOOD DESERT" IN AMERICA" details a step by step, realistic program to place "Neighborhood I-Marts™" in every one of these 3,000 USDA certified INNER CITY "Food Deserts" - providing the fruits, vegetables and low-sodium meal ingredients AT THE LOWEST PRICES that this disadvantaged demographic needs to prevent diet-related illnesses AND MAGNIFY THEIR PURCHASING POWER WITH HEALTHY FOODS!
3,000 USDA certified "Food Deserts" are located in many of the 19,495 cities around the United States- and Barry wants every Mayor and City Councilperson to have the opportunity to read and discover the ONLY practical solution to providing healthy foods at the lowest prices to their disadvantaged constituents IN THEIR NEIGHBORHOODS..
While they could buy this informative book on Amazon for $8.97, Barry wants to GIFT over a Million Dollars of his book away FREE to the over 110,000 Mayors, City Council members and city planners in these 19,495 cities to benefit every SNAP and WIC recipient in their metropolitan areas.
To request your FREE copy of Barry's book "HOW TO END EVERY "FOOD DESERT" IN AMERICA" reply to: info@cffsr.org with your name, city, position and e-mail, and you will receive your FREE .pdf copy of this valuable resource that will provide HIGH LOCAL employment and healthy foods at the lowest prices for every inner city "Food Desert" with his new "Neighborhood I-Mart™".