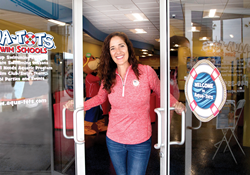 Kristy's love of the water, passion for swimming and commitment to teaching children make her an ideal fit for the Aqua-Tots family. -Craig Wright, CEO of Aqua-Tots Swim Schools
MESA, Ariz. (PRWEB) May 10, 2021
Aqua-Tots Swim Schools, the world leader in swim instruction, announces their one-year partnership with Kristy Kowal, Olympic silver medalist, world champion swimmer and former world record holder. Their Swim Like a Champion campaign will highlight key moments throughout Kristy's swimming career to inspire families to go for the goal of safe and confident swimming for life.
Kowal's swim journey began in swim lessons at the age of nine months and ultimately led her to the 2000 Olympic Games in Sydney, Australia, where she won the silver medal in the 200-meter breaststroke.
"I have been swimming my entire life, but when I was eight years old, I had my first glimpse of Olympic swimming, and at that moment, I knew what I wanted to do," said Kowal. "But my story comes with its fair share of setbacks. I missed qualifying for Team USA in two separate races. One by 17/100ths of a second. The other by 1/100ths of a second. These races became a driving force in my story and serve as an example of how anyone can reach their goals if they set their mind to it."
Aqua-Tots' Swim Like a Champion campaign aims to inspire children and show them that they can become champions in the water and in life. Throughout the summer season and with worldwide coverage of the Olympic Games in Tokyo, swimming will be at the forefront for many families.
"We are really excited to partner with Kristy," said Aqua-Tots CEO Craig Wright. "Her love of the water, passion for swimming and commitment to teaching children make her an ideal fit for the Aqua-Tots family. We hope to motivate children to become champions in the water and throughout life by creating goals, accomplishing them and gaining confidence every step of the way. With Kristy's support, we intend to ignite a spark in a whole new generation of swimmers."
Today, Kowal is a 4th-grade teacher in Southern California. Her experience as an educator and expertise as a swimmer and professional athlete also keep her in high demand for clinics, private coaching and mentorships. Although her Olympic aspirations have been fulfilled, her current goals include supporting, motivating and guiding those she teaches to reach their full potential.
"I'm honored to partner with Aqua-Tots," said Kowal. "Their mission to save lives by teaching children all over the world how to swim aligns with my passion for swimming and heartbeat for children's education. No one knows who the next world champion swimmer will be, and their story may just begin in swim lessons."
About Aqua-Tots Swim Schools
Aqua-Tots Swim Schools serves over 120 communities worldwide, offering dedicated, year-round, indoor swim instruction, community outreach and drowning prevention education to children of all abilities from four months to 12 years old. As the world's largest swim school franchise, their hand-selected instructors are passionate about teaching children how to remain safer in and around the water, using tried and true curriculum, 30 years in the making and trusted worldwide to teach four million swim lessons annually. To learn more, visit http://www.aqua-tots.com.
About Kristy Kowal
Kristy Kowal is an Olympic silver medalist (Sydney, 2000) in the 200m breaststroke and one of the most accomplished swimmers in US and NCAA history. She was the first American woman to win gold in the 100m breaststroke at the World Championships in 1998. Since retiring from competitive swimming, Kowal received her M.A. Ed. in elementary education and has dedicated 14 years to teaching, coaching swimming, mentoring athletes and philanthropic work. She often travels the country hosting clinics and her "Parents in the Game" workshops. To learn more or to contact, visit http://www.kristykowal.com.