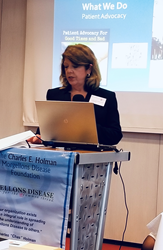 "Morgellons is a rapidly growing problem in Europe. We were very pleased with the outcome of this first European conference and plan to make it an annual event" stated Carsten Nicolaus, MD, PhD.
AUSTIN, Texas (PRWEB) November 27, 2018
The Charles E. Holman Morgellons Disease Foundation (CEHMDF) based in Lone Star, TX in collaboration with the BCA-Clinic in Augsburg, Germany, held the 1st Annual European Medical-Scientific Conference on Morgellons Disease at Augsburg's Alpenhof Hotel on October 20, 2018.
Morgellons Disease (MD) is a multi-system illness uniquely characterized by the formation of unusual fibers within the skin. MD is a debilitating, painful and life impacting condition consisting of slow-healing skin lesions, overwhelming fatigue, GI disturbances and an array of neurological deficits. Patients with Morgellons may shed unusual appearing particles from the skin described as fibers, sand or seed-like, black specks, or crystalized particles. Despite multiple published studies in the peer reviewed medical literature detecting multiple species of Borrelia and other tick borne pathogens in Morgellons skin tissue, the majority of mainstream medicine continues to hold the erroneous belief that Morgellons is purely psychiatric in origin.
"The CEHMDF began holding annual conferences on Morgellons in Austin, TX in 2008" states Cindy Casey Holman, CEHMDF Director. "After our 11th Annual Austin Conference in 2018, we decided to branch out to hold a conference in Europe"
Speakers for the European event included Carsten Nicolaus, MD, PhD, Director of the BCA-Clinic. Dr. Nicolaus treats a large number of European patients with Morgellons and other tick borne illnesses in his Augsburg clinic. His presentation covered diagnostic testing as well as conventional and alternative treatment approaches.
Cindy Casey Holman, RN, Director of the CEHMDF presented her personal battle with Morgellons, a historical perspective on how the CEHMDF came about as well as the current role of the foundation in empowering Morgellons patients through research funding, medical education and patient advocacy.
Marianne Middelveen, Microbiologist from Calgary, Alberta and author of several peer reviewed studies on Morgellons presented a review of scientific data which has confirmed the presence of Borrelia spirochetes and other tick borne pathogens in Morgellons study subjects.
With over 15 years experience in treating Morgellons patients, Ginger Savely, DNP from Washington DC, gave a presentation on treatment of Morgellons and what experience has taught her about treating this condition.
Carlo Maria Mortellaro, DVM, Professor of Veterinary Medicine from University of Milan, Italy, gave a presentation on Bovine Digital Dermatitis, a disease still under debate which affects dairy cattle and bears some similarities to Morgellons in humans.
Jenna Luche Thayer, Consulting Senior Advisor - U.S. Government, United Nations, non-profits and corporate social responsibility programs, discussed Morgellons as a human rights violation and the process by which ICD codes are obtained for newly recognized conditions.
"Morgellons is a rapidly growing problem in Europe. We were very pleased with the outcome of this first European conference and plan to make it an annual event" stated Carsten Nicolaus, MD, PhD. "The BCA-Clinic specializes in diagnostics and treatment of tick-borne disease" Dr. Nicolaus continued, "Our Clinic is unique in that it offers different service providers in one building so that patients are offered medical consultations, diagnoses, laboratory tests, special therapies and rehabilitation all under one roof.
A short video clip of the conference is available and the powerpoint slides are accessible on the BCA-Clinic website.
The CEHMDF would like to thank Dr. Nicolaus and his team at BCA-Clinic for organizing this 1st European conference which brought physicians, scientists, patients and their families together from over 11 different countries to discuss the latest in Morgellons disease research and treatment.
About the Charles E. Holman Morgellons Disease Foundation:
The Charles E. Holman Morgellons Disease Foundation, based in Austin, TX, is a 501(c) (3) nonprofit organization committed to advocacy and philanthropy in the battle against Morgellons disease. Director, Cindy Casey-Holman, RN, leads the foundation, named for her husband, Charles E. Holman, a pioneer in the fight against Morgellons disease. Currently there is no public funding and very limited private funding to support research for this disease, and the CEHMDF is the recognized authority and primary funding source for Morgellons disease medical/scientific research. Donations are tax deductible in the US. To learn more about Morgellons disease go to: http://www.MorgellonsDisease.org