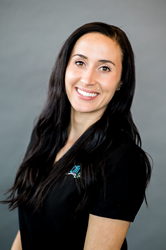 "What sets me apart from other aesthetic practitioners is the willingness I have to learn and keep up with the newest and upcoming modalities," says Mikaela.
MEDFORD, Oreg. (PRWEB) November 10, 2021
The Clinic for Dermatology & Wellness is thrilled to welcome Mikaela Ford, an advanced aesthetician, to their team. Mikaela attended Rogue Community College in which she earned a general associate degree in basic studies before pursuing her passion for aesthetics. She first received her aesthetics certificate before pursuing the state's rigorous Advanced Aestheticians licensure. Not all states recognize advanced aestheticians. In Oregon, this license can only be obtained after undergoing 500 hours of theory and practical education and a minimum of 110 procedures before passing a certified state board test through Oregon's Health Licensing Office.
At The Clinic, Mikaela performs many advanced aesthetic procedures including body contouring with EMSCULPT NEO® and CoolSculpting®, microneedling with the RejuvaPen®, BBL® photofacials and laser hair removal, chemical peels, HydraFacial® and more.
"What sets me apart from other aesthetic practitioners is the willingness I have to learn and keep up with the newest and upcoming modalities," says Mikaela. "I am passionate about understanding the best products for skin health and continuing to enhance my education in the newly advancing industry of aesthetics. I am inspired to stay current with the various modalities in order to customize treatments to cater to the cosmetic needs of my patients."
In addition to Mikaela, The Clinic for Dermatology & Wellness is proud to have David Richardson, PA-C, on the team. David speaks both Spanish and English fluently. With an undergraduate degree in Spanish Language and Literature and a master's degree in health sciences from the Duke University Physician Assistant program, David is uniquely qualified and passionate about working directly with patients to help them achieve optimal skin health and overall wellness.
The Clinic for Dermatology and Wellness in Medford, Oregon offers medical, surgical and aesthetic dermatology, in addition to advanced Mohs micrographic surgery for skin cancer. For patient convenience, The Clinic also offers virtual visits with teledermatology. Whether visiting The Clinic for an annual skin cancer screening, a CoolSculpting® non-invasive fat reduction session or a skin brightening treatment with HydraFacial®, patients will receive the warmest and most attentive care, administered with the highest level of expertise in the industry.
The Clinic's main location is located at 2924 Siskiyou Blvd., Suite 200, Medford, OR 97504. The Annex at The Clinic is located at 2937 Siskiyou Blvd. Ste. 1, Medford, OR 97504. Both locations have the same phone number: 541.200.2777. To learn more or to schedule an appointment, please call 541.200.2777 or request a consultation online today.
About The Clinic for Dermatology & Wellness
Founded in 2016, The Clinic is a patient care experience not found anywhere else in the Rogue Region. The Clinic is a state-of-the-art dermatology practice in the heart of East Medford, offering medical, surgical and aesthetic dermatology services, as well as Mohs micrographic surgery. At The Clinic, we pride ourselves on providing high quality medical services in a patient-centered care setting, where our patients become our family.
About Joe Gatti, MPAS, PA-C
Joe is a founding member of The Clinic for Dermatology & Wellness and focuses his passion for excellence to his ongoing pursuit of better health, inside and out, for his patients, staff, friends and family. Joe Gatti is a native of the Pacific Northwest who moved to Medford to focus on his family and his love for dermatology after 15 years of active duty military service in the United States Army.
After graduating from Del Norte High School in Crescent City, California, Joe earned a Congressional appointment to the United States Military Academy at West Point. Following his graduation and commission as a Second Lieutenant in May 2005, Joe then applied to and excelled in the military's Interservice Physician Assistant Program through the University of Nebraska Medical Center. After graduating with a master's degree in physician assistant studies (MPAS), then-Captain Gatti spent the next four years serving the soldiers of Schofield Barracks, Hawaii, as a dermatology focused physician assistant.
Joe is highly passionate about medical, surgical and aesthetic dermatology, with a particularly keen interest in excellent aesthetic results with dermatologic surgeries and procedures. "I don't want my patients to only LOOK healthy," he says, "but after healing, know they ARE healthy!"
He is certified and trained in aesthetic dermatology, including body contouring (CoolSculpting®), neuromodulators (Botox®) and dermal fillers (Juvéderm®), as well as advanced dermatologic surgical procedures. Joe takes great pride in his ability to offer patients maximum flexibility for their dermatologic needs while minimizing the necessity of seeing multiple clinicians at multiple facilities.
About Kevin Wright, MD, FAAD
Dr. Kevin Wright recently joined the team at The Clinic for Dermatology & Wellness as medical director and a board-certified staff dermatologist. Dr. Wright currently splits his time between Medford and San Diego, where he is an active duty United States Naval Officer serving as the staff dermatologist at the Naval Medical Center San Diego (Balboa). Dr. Wright and his family have long been interested in the Rogue Valley and plan to settle here after his time in the Navy concludes.
Dr. Wright received his medical degree from Uniformed Services University of the Health Sciences in Washington, DC, after graduating with a double major from the University of Colorado. After running a hyperbaric chamber for US Navy dive teams in Micronesia, he then completed three years of dermatology training at the Naval Medical Center San Diego, the last as chief resident. He received the Alfred Hollander Memorial Award for teaching, as well as professional and personal integrity. Dr. Wright specializes in all facets of complex medical and surgical dermatology, with an extra focus on aesthetic and sun care regimens, acne, tattoo reactions, anogenital disease, infectious diseases of the skin, and precancerous and cutaneous oncology.