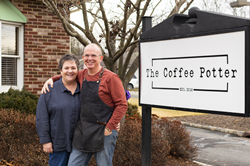 "Everyone at Crimson Cup understands our business and wants us to succeed. They are available any time of day, any day of the week, if we have a question, a problem, or want to brainstorm an idea." - David Hickey, The Coffee Potter
COLUMBUS, Ohio (PRWEB) March 26, 2021
For the past four years, The Coffee Potter has served as a sanctuary for people in Long Valley, New Jersey to enjoy terrific coffee, food and the company of their neighbors.
That was the goal of Owners Geralyn and David Hickey when they opened their new coffee house on March 16, 2017, with the help of nationally acclaimed coffee roaster Crimson Cup Coffee & Tea.
"We're thrilled to congratulate Geralyn and David on four years of running a thriving independent coffee shop," said Crimson Cup Founder and President Greg Ubert. "We look forward to helping them grow their unique business in the years to come."
To mark their anniversary, the Hickeys talked about how they grew their coffee business from the grounds up with the help of Crimson Cup.
"Our town was long overdue not just for a coffee shop but for a place where people could meet, connect with one another, and feel welcome," said David Hickey. "Our mission is to unite our local community and connect its people."
Geralyn Hickey gave credit for the coffee shop's growth to customers, employees and relationships formed over the last four years – including the relationship with Crimson Cup.
"The bonds our staff have formed with our customers are truly precious to us," she said. "We've been there for our customers as they married, changed jobs, had babies, dealt with illness and experienced both joy and loss. Our deep focus on relationships and loving our neighbors sets us apart."
David said the company's core values of Integrity, Quality, Kindness/Respect and Fun help the coffee house stand out in the local community.
"Our employees are an absolute differentiator for us," he said. "They live and work by our core values, and our customers love our employees."
The relationship with Crimson Cup has been essential to the shop's success. "The resources Crimson Cup makes available to us, from marketing to equipment maintenance, have been invaluable," Geralyn said.
"Everyone at Crimson Cup understands our business and wants us to succeed," David added. "They are available any time of day, any day of the week, if we have a question, a problem, or want to brainstorm an idea."
For the Hickeys and over 150 local business owners in 30 states, the road to opening and running a successful coffee shop started with Crimson Cup's 7 Steps to Success coffee shop franchise alternative program.
"As the coffee partner for The Coffee Potter and over 150 independent coffee shops in 30 states, we believe their success is our success," Ubert said.
The program takes its name and content from Ubert's book, "Seven Steps to Success: a Commonsense Guide to Succeed in Specialty Coffee."
Crimson Cup consultants guide new coffee shop owners in writing a coffee shop business plan. They continue providing expert advice on site evaluation, equipment, training, marketing materials, menu ideas and much more.
A 7 Steps trainer with extensive experience stays onsite for a full week before the shop's opening, and returns for grand opening celebrations.
David Hickey observed that adapting to change, especially over the last year, has been key to the shop's continuing success.
"Crimson Cup has been so willing to support new ideas like our subscription program, making it so much easier for us to try new things," he said.
The Columbus coffee roaster continues to deliver coffee, coffee shop supplies, ongoing training and support.
Customers rave about the coffee, food and service. "Their coffee is amazing - every combination you can ask for," said one Yelp reviewer. "I also love their pastries and their service is amazing."
Crimson Cup's coffee ranks among the country's best. Among many national honors, the roaster won 2017 and 2020 Good Food Awards – which recognize the best tasting, most responsibly sourced coffees in the United States. It was also named a finalist for a 2021 Good Food Award.
Passion for helping their local community inspires the couple to give back. "Our heart is to try to lift the burden of fundraising off local nonprofits, so they can focus their precious time and energy into the mission of their organizations," Geralyn said.
"For example, we have a coffee subscription that supports local non-profits and charities," she added. "Each month, a portion of your monthly subscription goes to support a local non-profit or charity of your choice."
Their coffee business nourishes the couple's relationship with each other and their neighbors. "It's given us the opportunity to work together, and we are proud of contributing in such a big way to our community," David said.
Ubert said the couple's focus on their local community made them a perfect fit for Crimson Cup. "Our mission is 'Coffee+Community,' and giving back is one of our core values.
"Independent coffee shops act as local community hubs where people gather to discuss ideas, do business and support one another," he added. "They play an essential role in creating a vibrant community!"
Asked for advice for other prospective coffee shop owners, the Hickeys advised giving Crimson Cup a serious look. "We honestly don't think we could have accomplished what we accomplished without them," Geralyn said.
The Coffee Potter is open 7 days a week at 24 Schooleys Mountain Road in Long Valley, New Jersey. For the latest news and updates, follow their Facebook Page.
About Crimson Cup Coffee & Tea
Columbus, Ohio coffee roaster Crimson Cup Coffee & Tea is a 2020 Good Food Award winner, 2019 Golden Bear Champion for Small Franchise/Chain Roaster and Roast magazine's 2016 Macro Roaster of the Year. Since 1991, Crimson Cup has roasted sustainably sourced craft coffee for consumers and wholesale coffee customers.
Through its 7 Steps to Success coffee franchise alternative program, the company teaches entrepreneurs to run independent coffee houses in their local communities. By developing a coffee shop business plan, entrepreneurs gain insight into how much it costs to open a coffee shop.
Crimson Cup also supports life-enriching projects through its Friend2Farmer™ initiatives, promoting the education, health, sustainability and ecnomic growth of small-plot coffee farmers and their communities.
Crimson Cup coffee is available through over 350 independent coffee houses, grocers, college and universities, restaurants and food service operations across 30 states, Guam and Bangladesh. The company also operates several Crimson Cup Coffee Houses and a new Crimson retail flagship store. To learn more, visit crimsoncup.com, or follow the company on Facebook and Instagram.