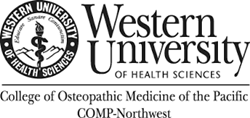 The COMP team has successfully transformed the curriculum of medical students at every phase of their educational journey.
POMONA, Calif. (PRWEB) September 11, 2020
The challenges facing universities in the wake of COVID-19 were unparalleled. The College of Osteopathic Medicine of the Pacific (COMP) & COMP Northwest at Western University of Health Sciences is proud to announce the successful results of the transformational steps taken to mitigate the risk of the pandemic for the health and safety of faculty, staff and students while simultaneously offering a world-class education.
Examples of the steps taken by the College of Osteopathic Medicine of the Pacific (COMP) in Pomona, California & COMP-Northwest in Lebanon, Oregon include:

Exceptional leadership and collaboration resulted in successful move of pre-clinical curriculum (years 1 and 2) completely to digital platforms within two weeks, with no delay in student education.
Rapid demobilization of all students out on clinical rotations (years 3-4), actively addressing over 600 students concerns and needs as they stabilized housing and living issues to be able to safely and indefinitely 'shelter in place.'
Innovative buildout of virtual curriculum for 3rd and 4th year students supplementing all clinical specialties to include a new course in Population Health that provides critical medical training as it pertains to the global pandemic and novel COVID-19 virus.
Expedited new communication channels within the college and individual teams encompassing leadership, faculty, staff and students.
Expedited launch of a virtual MEDWell program to support health and wellness of faculty, staff and students during remote working/learning and sheltering in place.
With the understanding that the COVID-19 pandemic is not going away anytime soon, the COMP team is doing everything possible to secure and maintain quality clinical rotations for their students. The school is pleased to be able to offer virtual rotations when a live clinical experience is not possible. COMP believes being flexible and creative in order to fulfill this responsibility is the only way to stay successful in these challenging times.
About Western University of Health Sciences
Western University of Health Sciences (http://www.westernu.edu), located in Pomona, Calif. and Lebanon, Ore., is an independent nonprofit health professions university, conferring degrees in biomedical sciences, dental medicine, health sciences, medical sciences, nursing, optometry, osteopathic medicine, pharmacy, physical therapy, physician assistant studies, podiatric medicine and veterinary medicine. WesternU is home to WesternU Health, where the best in collaborative health care services is offered.