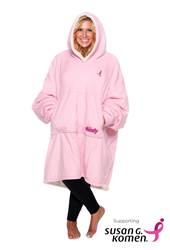 "One thing we can all connect on is how challenging it is to fight through hardship," said Barbara Corcoran. "This illness affects millions of women around the world and I'm so proud to be part of a company that makes giving back their priority."
SAN MARCOS, Calif. (PRWEB) August 12, 2019
Shark Tank investor, Barbara Corcoran and The Comfy® are working together to support women across the nation by kicking off a 50K donation to the world's leading breast cancer organization Susan G. Komen®.
"One thing we can all connect on is how challenging it is to fight through hardship," said Barbara Corcoran. "This illness affects millions of women around the world and I'm so proud to be part of a company that makes giving back their priority."
Going hand in hand with the donation is the launch of a special edition Comfy and Comfy Feet featuring the iconic pink color and the Susan G. Komen® Running Ribbon. In 2019-2020 The Comfy® will donate to Susan G. Komen® $50K regardless of sales. The Running Ribbon is a registered trademark of Susan G. Komen®.
One part oversized sweatshirt and one part super snuggly blanket, The Comfy® turns every situation into a cozy one - from family camping trips, to cold hospital rooms, to the couch back home. With the addition of Comfy Feet, wearers can enjoy head to toe warmth while finding comfort in giving back.
The Comfy® - Original Blanket Sweatshirt Highlights:

Super Soft & Reversible - Sink into luxurious velour on one side and soft sherpa fleece on the other.
One-Size-For-All - Modeled after a 5XL sweatshirt and took on a Comfy size of its own to keep everyone every size warm.
Endless Uses - The Comfy® can be used anywhere from nighttime concerts to football games, to overnight hospital stays, and family movie nights at home. The comfortable hood can double as a pillow. Bring a piece of home with you everywhere!
Large Pocket - Perfect for holding a phone or tablet, snacks or even a small pet!
Easy to Clean - Simply pop The Comfy® in the washer and dryer and it's like new!
Priced to Please - The special edition Comfy is only $49.99. When paired with Comfy Feet, special savings apply.
Comfy Feet Highlights:

Luxuriously Soft - Made from thick fleece and velour, it feels like walking on clouds.
Non-Skid - Chase the kids, run after the dog, or dash madly across the house in ease.
Available in Two Sizes - This special edition is available in Women's S/M (5-7) or M/L (8-11) for $19.99.
Head To Toe Comfy - Match them with The Comfy® for complete warm coverage and special savings apply.
"Almost everyone we know, including us, has been impacted by a loved one being diagnosed with breast cancer," said The Comfy® co-founder Brian Speciale. "We are proud to have found a way to use The Comfy® brand to provide comfort, strength, and support in a totally different way."
The Comfy® brand is currently available on QVC, Amazon (US, Canada, UK, Australia), Bed Bath & Beyond, Kohl's, Target, Fred Meyer, Kroger, London Drugs, The Shopping Channel, Shopko, and Macy's. Same-day shipping is available on http://www.thecomfy.com. This special edition Comfy and Comfy Feet are available in limited retailers, included Bed Bath & Beyond, Kohl's, TheComfy.com and more.
About The Comfy®
Cozy Comfort Company LLC is family-owned and operated by brothers Brian and Michael Speciale - the creators of The Comfy®. Just a month after forming their company, The Comfy® was invited to make their pitch on ABC's Shark Tank. With only a prototype in hand they closed a deal with Barbara Corcoran and the rest is history. The Comfy has been featured on BuzzFeed, Business Insider, Inc., Good Morning America, The View, and more.
About Susan G. Komen®:
Susan G. Komen is the world's largest breast cancer organization, funding more breast cancer research than any other nonprofit outside of the federal government while providing real-time help to those facing the disease. Komen has set a Bold Goal to reduce the current number of breast cancer deaths by 50 percent in the U.S. by 2026. Since its founding in 1982, Komen has funded more than $988 million in research and provided more than $2.2 billion in funding to screening, education, treatment and psychosocial support programs serving millions of people in more than 60 countries worldwide. Komen was founded by Nancy G. Brinker, who promised her sister, Susan G. Komen, that she would end the disease that claimed Suzy's life. That promise has become Komen's promise to all people facing breast cancer. Visit komen.org or call 1-877 GO KOMEN. Connect with us on social at ww5.komen.org/social.