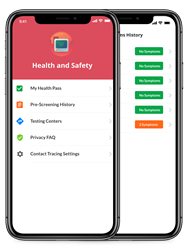 "We knew that READY Contact Trace needed to combine end-to-end anonymity for users with the ability for staff to automate the contact tracing process."
BOSTON and MONTREAL (PRWEB) August 06, 2020
With higher ed institutions preparing to re-open in the middle of the COVID-19 pandemic, many are seeking technology to protect their students, faculty and staff. READY Education, a technology company focused on building community and driving retention in higher education, has launched READY Contact Trace - a contact tracing app that can be rapidly rolled out to limit and manage COVID-19 outbreaks on campus.
"Our campus community app has been providing millions of students the digital connections that are foundational to the complete educational experience our partners are dedicated to providing," said READY Education CEO, Gary Fortier. "I am thrilled by the dedication and speed our team has demonstrated in realizing this contact tracing solution to protect students as they return to school."
Leveraging proven technology that increases student retention by as much as 4% at leading community colleges and universities, READY Contact Trace gives administrators a privacy-first solution for automating contact tracing. Daily pre-screening provides individual health passes to clear students, staff and faculty heading to campus and the Personal Symptom Tracker supports individual health accountability for potentially infected students. After suspected exposure events, targeted, rapid-response notifications can be sent to prevent the potential spread of COVID-19. Also, designated support staff can access detailed case tracking tools and easily identify campus 'hot spots' for potential transmission in the Health and Safety Dashboard.
Fortier commented that, "from extensive experience working with our partners to provide apps that students love, we knew that READY Contact Trace needed to combine end-to-end anonymity for users with the ability for staff to automate the contact tracing process."
READY Contact Trace is already set to support the health and safety efforts at many re-opening campuses this coming semester. Support staff looking to add contact tracing to their campus safety toolkit are encouraged to get in touch for a demo.
About READY Education
Trusted by over 2 million students and more than 350 institutions, READY Education offers the leading campus community and communications solution for higher education. We are devoted to crafting digital experiences that increase student engagement and, with over 90% student adoption, our campus community app is an essential addition to any complete student experience. Combined with actionable insights on retention risks and a dedicated READY Student Success team, our partners see their student retention improve by as much as 4%. As the highest student-rated app, the READY platform is the right choice for colleges and universities looking to transform their on-campus experience into a digital community.