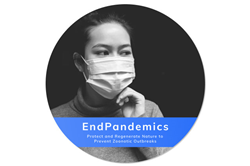 There are so many ways to help, and sometimes it gets very confusing, as there are so many charities to choose from, but during these hard times, all kinds of giving makes a difference
LOS ANGELES (PRWEB) July 10, 2020
Circularity announced a long-term collaboration with EndPandemics on June 16th, 2020 that, in line with Circularity Healthcare's mission to provide real and affordable healthcare solutions, will create a global alliance to protect and regenerate nature and to help prevent future pandemics by ending the commercial trade in wild animals, expanding wild habitats, and protecting livelihoods. Contributions will not only protect global health and save wildlife, but also safeguard global biodiversity, enhance sustainable agriculture, and mitigate climate change.
Circularity Healthcare will also be donating its products to every member of this charity's network to help them stay healthy and safe amid the current COVID-19 pandemic. This includes the D'OXYVA Start Health Set.
"Partnering with one of the world's biotech leaders in proprietary circulatory health and noninvasive delivery technologies that actually helps to save the lives of those infected by pandemic diseases, was a no-brainer for EndPandemics. In our partnership with Circularity Healthcare, we are both looking forward to making a true impact across the globe to address disease surveillance gaps and prevent future outbreaks," says Michael Mitchell, chairman at EndPandemics.
As the coronavirus pandemic continues to spread worldwide, companies must plan ahead and take necessary steps that will help them protect their employees, keep their business on track, and even prepare for the worst—business disruption. Most have revisited policies, considered new innovations and platforms, and canceled events that require mass gatherings – and yet many still require assistance.
As shops, restaurants, and bars across the nation and around the world continue to be shut down to help flatten the curve and slow the spread of coronavirus, many workers were sent home. For most, if not for all of these workers, that means uncertainty as to when they will see a paycheck again.
Given the current pandemic the world is facing, preventing future breakouts must be a global priority and for those who want to help it can be hard to know where and how to start.
"There are so many ways to help, and sometimes it gets very confusing, as there are so many charities to choose from, but during these hard times, all kinds of giving makes a difference," says Jennifer Rose Boadilla-Pelaez, Circularity Healthcare's Senior Sales and Marketing Manager, Creative Director. She continues by stating, "the direction that Circularity Healthcare decided to go in is with an extensive donation and outreach partnership with EndPandemics that will have a long-lasting, global impact on how we approach tackling and preventing current and future pandemics head-on, and for that we are grateful."
If you are interested in learning more about Circularity Healthcare's and EndPandemic's partnership learn more here, or if you'd like to join the mission and donate, learn more here.
About EndPandemics
EndPandemics is a dynamic global alliance of organizations—representing conservation, climate, health, finance, security, agroforestry, business, technology, and communications—who have launched a global campaign to reduce the risks of pandemics by addressing the root cause of all zoonotic outbreaks: rampant wildlife trade and the destruction of wild habitats.
About Circularity Healthcare, LLC
Circularity Healthcare, LLC, located in Los Angeles, CA, is a private biotech and medtech products and services company that designs, makes, markets, sells, distributes, and licenses its patented and patent-pending technologies, such as its flagship non-invasive deoxyhemoglobin vasodilator product line, D'OXYVA®. One of the main mechanisms underlying D'OXYVA's science received the Nobel Prize for Medicine in 2019. Circularity enters into exclusive agreements with manufacturers to launch products in large and small clinics and hospitals to help enhance their profits and credit profiles with a wide variety of advanced products and services. In addition, Circularity Healthcare assists in the financing of equipment, working capital, and patient financing at industry-leading terms and speed.
For more information, please visit http://www.circularityhealthcare.com or http://doxyva.com; doctors (Rx only) visit http://wound.doxyva.com and send your general inquiries via the Contact Us page. For specific inquiries, contact Circularity Customer Care at info(at)doxyva(dot)com, info(at)circularityhealthcare(dot)com, or by phone (toll free) at 1-855-5DOXYVA or 1-626-240-0956.
Forward-Looking Information
This press release may contain forward-looking information. This includes, or may be based upon, estimates, forecasts and statements as to management's expectations with respect to, among other things, the quality of the products of Circularity Healthcare, LLC, its resources, progress in development, demand, and market outlook for non-invasive transdermal delivery medical devices. Forward-looking information is based on the opinions and estimates of management at the date the information is given and is subject to a variety of risks and uncertainties that could cause actual events or results to differ materially from those initially projected. These factors include the inherent risks involved in the launch of a new medical device, innovation and market acceptance uncertainties, fluctuating components and other advanced material prices, new federal or state governmental regulations, the possibility of project cost overruns or unanticipated costs and expenses, uncertainties relating to the availability and costs of financing needed in the future and other factors. The forward-looking information contained herein is given as of the date hereof and Circularity Healthcare, LLC assumes no responsibility to update or revise such information to reflect new events or circumstances, except as required by law. Circularity Healthcare, LLC makes no representations or warranties as to the accuracy or completeness of this press release and shall have no liability for any representations (expressed or implied) for any statement made herein, or for any omission from this press release.