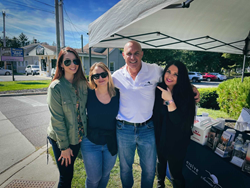 TOMS RIVER, N.J. (PRWEB) October 07, 2021
On Saturday, October 2nd, over 1000 gently used coats, sweaters, blankets, shirts, pants, shoes, and various toiletries were dropped off for donation by local community members and organizations. We couldn't be prouder of the support we received from our community. With so many are struggling emotionally and financially, we believed this was a must-have event.
A special thank you to Candace Tocci, Clinical Director of The Counseling Center at Toms River, Kristin Calderon, Annmarie Szuminski, Jimmy Sands, our Community Business Development Representatives, and Ricky Naimoli from Peer Support for The Counseling Center. From early morning setup to donation collection to the afternoon clean-up, you couldn't have found a more grateful, smiling, and fulfilled crew for the job.
During the event, we even had a displaced gentleman drop by the site, to which we were able to cloth, provide him with some toiletries, and get a nice meal.
"These are the little things that make such a big difference; it feels so good to give back," said Kristin Calderon.
Clothing and toiletry items will be donated to Journeys Thrift Shop in Toms River, NJ, and the Antonia Maria Foundation in North Brunswick, NJ. Nothing will go to waste, and we will make sure to host more clothing drives in the future for other causes.
"It's important to us that we continue to give back to the community that we live and work in," said Annmarie Szuminski.
The Counseling Center has locations throughout New Jersey in Toms River, Freehold, Cherry Hill, Clark, Fair Lawn, Monmouth Junction, Robbinsville, Middlesex, Roxbury-Succasunna, and West Caldwell. The Counseling Center is an outpatient mental health & addiction treatment center for adults and adolescents seeking help with depression, anxiety, dual-diagnosis, addiction, alcoholism, and co-occurring disorders associated with addiction and substance use. For immediate assistance at any location, call 732-431-5300.