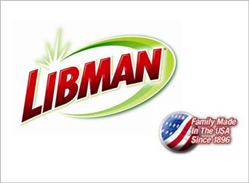 ARCOLA, Ill. (PRWEB) November 16, 2021
The COVID-19 pandemic has no doubt changed the way we live. The "new normal," as so frequently referenced, did not pass over Americans' cleaning habits, as a recent online survey conducted by The Libman Company, a leading brand of household and commercial cleaning tools, suggests that COVID-19 has driven more frequent household cleanings and a desire for a do-it-yourself approach, with nearly all respondents suggesting they would prefer to clean their homes themselves.
According to the survey, which encompassed males and females aged 25 to 54 in the U.S., COVID-19 is driving an increase in daily cleaning, with a 27% boost in this practice against pre-COVID cleaning practices. The most cleaned spaces? Countertops and door knobs/handles are being cleaned most often, followed by bathroom sinks, toilets, kitchen sinks and floors.
The COVID-19 pandemic has also shifted homeowners' reliance on outside cleaning support –95% of survey respondents said they prefer to clean their homes themselves.
This do-it-yourself approach, coupled with the desire to properly clean and sanitize surfaces to help reduce the risk of germs and protect those in the household, has driven homeowners to arm themselves with new cleaning tools. According to the survey, homeowners have added liquid bleach and bleach-infused cleaning solutions, antibacterial aerosol sprays and disposable products such as wipes and toilet brush wands to their cleaning arsenal, joining tried-and-true cleaning solutions like brooms, dust pans, mops, buckets and non-bleach multi-purpose cleaners. Among respondents, multi-surface cleaners, liquid bleach and antibacterial aerosol sprays took the top three spots as the most important cleaning products to have on-hand.
The question is…does the COVID cleanse have sticking power? Survey says nearly 9 out of 10 people plan to continue their cleaning habits, regardless of the pandemic, with hand washing/use of sanitizer, wiping down surfaces and giving the home a thorough cleaning leading the charge for the practices that will be continued most often.
For more information about Libman and its line of cleaning products, visit http://www.libman.com.
About The Libman Company
The Libman Company is a family-owned company that has been making quality cleaning tools since 1896. The company manufactures products from brooms and mops to more specialized tools for kitchen and bathroom cleaning and industrial uses. Libman proudly manufactures most of their products in the United States, including the company's well-known Wonder® Mop.