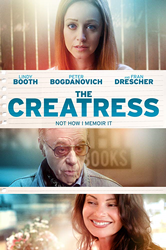 A hilarious comedy/drama that breaks the psychological barriers between what's fiction and what's real
LOS ANGELES (PRWEB) September 13, 2019
The Creatress is a recently released comedy film that stars the iconic Fran Drescher who is most well known for The Nanny, Happily Divorced, and Living with Fran. It also stars Hollywood legend Peter Bogdanovich; Actress Lindy Booth (The Librarians, Dawn of the Dead, Kick-Ass 2 and several Hallmark movies) and actress Kayla Ewell, who stars in The CW's Roswell New Mexico and previously The Vampire Diaries.
The Creatress is directed by previous Days Of Our Lives actor Jason Cook, and produced by Café Oscuro Films, the production company of the Executive Producer Liliana Kligman and Jason Cook's Digital Cuvée.
The film, is an award winning movie that was officially selected, nominated and awarded at International Film Festivals from Nice to Madrid with nominations such as Best Feature Film and Best Director. It has won titles such as Best Feature Comedy and Best Lead Actress for Lindy Booth.
The Film is available now on multiple platforms in +100 countries. You can watch it on iTunes, Google Play, Amazon Prime Video , X-Box Entertainment, YouTube on Demand, Fandango Now, Vudu, Vimeo on Demand, Redox On Demand ; and buy a physical release DVD/Bluray at: Amazon, Target, Barnes & Noble, Walmart and Best Buy.