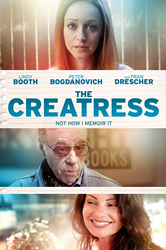 Where to watch: iTunes, Google Play, Amazon Prime Video, X-Box Entertainment, YouTube on Demand, Fandango Now, Vudu, Vimeo on Demand, Redox On Demand.Territories: USA & Canada and +100 CountriesPhysical DVD/Blu-ray: Amazon, Target, Barnes & Noble, Walmart and Best Buy.
LOS ANGELES (PRWEB) September 09, 2019
This award winning comedy/drama independent film portrays an exceptionally executed character played by Young Eryn Bellow (Lindy Booth) which follows up her debut with a best seller, in spite of its mysterious message. It does not inhibit her pugnacious agent, (Fran Drescher) –who plays an unprecedented role- to close a six-figure deal for film rights, but critical backlash threatens the reception of the book as well as the work on her third novel. A zealous critic (Peter Bogdanovich) goes so far as to publish a faux-memoir to mock her work, testing the limits of defamation. Instead of a lawsuit, Eryn decides to answer with a faux-memoir of her own to, quite literally, rewrite the course of her life. Nothing like aspiring for a happy ending while trying to prove they can be creative.
Starring: Fran Drescher, Lindy Booth, Peter Bogdanovich, Kayla Ewell, Luke Guldan, Francis Lloyd Corby
Directed by: Jason Cook
Produced by: Liliana Kligman and Jason Cook
Executive Produced by: Liliana Kligman
Written by: Jason Cook
Studio: Café Oscuro Films, Digital Cuvée and Gravitas Entertainment
Release Status: August 27, 2019
Release Date: August 27, 2019
Rating: TV-MA
Festivals
Nice International Film Festival 2019 – May 2019 (Official Selection)
Nominations: Best Feature Film, Best Director, Best Lead Actress.
Winner: Best Lead Actress (Lindy Booth)
Madrid International Film Festival 2019 - August 2019 (Official Selection)
Nominations: Best Feature Comedy, Best Feature Film, Best Director, Best Lead Actress.
Winner: Best Feature Comedy
Digital Presence:
Facebook: http://www.facebook.com/thecreatressmovie
Instagram: http://www.instagram.com/thecreatressmovie
Twitter: http://www.twitter.com/thecreatressmov
Website: http://www.thecreatressmovie.com
IMDB: https://www.imdb.com/title/tt7203052/
Official Trailer: https://youtu.be/nVIdu5GSGiY