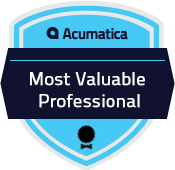 "We have an elite team here at Crestwood, full of expert innovators who really do just want to produce the best outcomes for our clients." -Bryan Banner (COO)
SCHAUMBURG, Ill. (PRWEB) March 01, 2021
The Crestwood Associates team brought home six Most Valuable Professional ("MVP") awards for the year 2020, making them the most awarded company on the list for the second consecutive year.
Colleen Schils and Tiffany Bennett won for the first time. Guillermo Pineda won his second award. Senior consultant Melissa Blassingame won for the fourth consecutive year, while Michael Aichinger won for the fifth consecutive year.
"Wow, hearing that we won six of the Acumatica MVP awards is outstanding," says Bryan Banner, COO at Crestwood Associates. "I have worked with all of our MVPs for many years, so I know from personal experience how deserving each of them are. We have an elite team here at Crestwood, full of expert innovators who really do just want to produce the best outcomes for our clients."
The Acumatica MVP award honors people in the Acumatica community who share their expertise, knowledge, and dedication to the platform and product. Award winners receive recognition, a small prize, MVP badges for social and web use, participation in various events and forums during the year, and discounted admission to Acumatica Summit.
The awards are typically announced just prior to the Acumatica Summit, which has been postponed for the second time until July 2021. Summit is a yearly event held in Las Vegas, Nevada, during which there are training sessions, keynote speeches, networking events, and an award ceremony. VAR partners, customers, and prospects are invited to attend and contribute.
About Crestwood Associates, LLC
Founded in 1998 and headquartered in Schaumburg, Illinois, Crestwood Associates is a premier Cloud Service Provider (CSP), Gold-Certified Microsoft Dynamics Partner, 10-time President's Club Award Winner, and 2017 Inner Circle recipient. In addition, Crestwood was honored to be chosen as Acumatica's US Partner of the Year in 2016 and 2017, and a member of Acumatica's President's Club for 2018 and 2019, Manufacturing Partner of the Year in 2019, with numerous Acumatica MVP awards spread amongst our team. Crestwood delivers a variety of business solutions, including: Acumatica Cloud ERP, Microsoft Dynamics GP, Microsoft Dynamics SL, Microsoft Dynamics CRM (now called Dynamics 365 for Sales), Microsoft Dynamics 365 Business Central, and Greentree applications. From accounting and financial reporting, to CRM, manufacturing, distribution, payroll and human resources, Crestwood Associates provides the tools and services that help businesses perform above and beyond the competition. The Crestwood team is comprised of over 45 certified professionals who provide in-depth industry experience and functional expertise.
Why Crestwood?
Crestwood Associates enjoys consistent growth due to an unwavering commitment to creating expert end users. During planning, implementation, and maintenance, Crestwood's clients have access to an unparalleled level of support and guidance from their account managers, instructional how-to videos, an extensive library of informative blog posts, both free and premium live training, and more. Many expert associates are chosen throughout the year to present at industry events, such as GPUG Summit, Acumatica Summit, BDO events, various conferences, and more.
About Acumatica
Acumatica is a leading provider of cloud business management software that empowers small and mid-size businesses to unlock their potential and drive growth. Built on the world's best cloud and mobile technology and a unique customer-centric licensing model, Acumatica delivers a suite of fully integrated business management applications such as Financials, Distribution, CRM, and Project Accounting, powered by a robust and flexible platform.