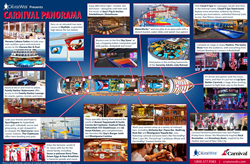 CALVERTON, Md. (PRWEB) November 12, 2019
Debuting in December 2019, Carnival Panorama will be the newest ship from Carnival Cruise Line, and she is a head-turner. As with her sisters, Carnival Vista and Carnival Horizon, she's devoted to maximizing fun on family vacations with a 5,000-passenger maximum capacity! Some of her highly-anticipated activities are already earmarks of the fun-centered cruise line, like the Carnival WaterWorks aqua park, but others are all-new, such as the first Sky Zone trampoline park at sea! While waiting in eager anticipation, prospective cruisers can enjoy a sneak peek at the most exciting vacation of their lives in The Cruise Web's new infographic.
Preview Carnival Cruise Line's Carnival Panorama in The Cruise Web's latest infographic:
https://cruiseweb.com/cruise-lines/carnival-cruise-line/ship-carnival-panorama#infographic
For years, Carnival Cruise Line has been all about one thing: FUN. That does not change with the all new Carnival Panorama! When you're not bouncing around, playing dodgeball with your family and friends at the Sky Zone trampoline park, you're high above the deck, zipping through the air on the SkyRide! The fun-filled activities do not stop there! At the CHOOSE FUN WaterWorks aqua park, guests get to choose RED FUN or BLUE FUN—the names of two daring waterslides. BLUE FUN is all about speed and straightaways, looking for the biggest splash at the bottom, while RED FUN is a simple raft slide full of corkscrews where your friends can hear you scream in delight! When the sun goes down, Carnival Panorama comes to life, featuring two all-new Playlist Productions shows: Rock Revolution pays homage to the Woodstock era, and Broadway Beats is inspired by the rhythms of New York City.
Carnival Panorama also features two eateries curated by celebrity chef Guy Fieri: Guy's Burger Joint and Guy's Pig & Anchor Smokehouse. If you're looking for flavors that will entice every sense, look no further than Bonsai Teppanyaki, another classic, or JiJi Asian Kitchen, an Asian-style eatery where many cultures from the Far East come together for an eclectic dining experience.
After a day of slipping and sliding at the aqua park, hopping in SkyZone or eating whenever and wherever your heart desires, settle in to one of the spacious, modern staterooms onboard Carnival Panorama. The highlights of these are the Family Harbor Staterooms and Suites. Located near all the family-friendly activities, these accommodations are perfect for families and come with access to an exclusive lounge area! This area is stocked from morning to night with snacks, and has board games, movies and other activities to keep every family member entertained.
Carnival Panorama will spend her inaugural season sailing out of Long Beach, California to explore the Mexican Riviera on 7-night round trip itineraries, highlighted by ports like Cabo San Lucas, Mazatlan and Puerto Vallarta. To learn more about the upcoming Carnival Panorama and her exciting itineraries, call The Cruise Web's expert cruise consultants at 1-800-377-9383.
About the Cruise Web
The Cruise Web is a travel agency with more than 25 years of expertise in matching travelers with their perfect cruise vacation. Using a fun, personal and complimentary consultative process, The Cruise Web takes the stress out of vacation planning. The Cruise Web's clients come from around the globe to find the best value for their time and money. Contact The Cruise Web today at 1-800-377-9383 (toll-free) or 001-240-487-0155 (international), and visit The Cruise Web online at CruiseWeb.com for the best cruise specials.