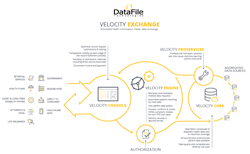 Our rapidly growing aggregated network provides properly authorized patients and requestors with seamless, secure health data exchange
KANSAS CITY, Mo. (PRWEB) April 04, 2019
DataFile Technologies announced today its aggregated data network has grown 271% in the first quarter of 2019. The significant increase in healthcare provider end points available in DataFile Velocity Exchange means more health data requests can be fulfilled and delivered at greater speed for entities like health insurance payers, researchers, life and disability insurance, attorneys and most importantly to patients themselves.
Velocity Exchange, the DataFile interoperability suite, is a leading health data platform comprised of rich, actionable patient charts from thousands of providers and healthcare systems. The Velocity Core network of provider end points is constantly growing, adding greater benefits and efficiencies to those needing health data to make clinical and financial decisions.
"Our rapidly growing aggregated network provides properly authorized patients and requestors with seamless, secure health data exchange," said Shawn Whitcomb, Chief Operating & Technology Officer for DataFile. "We recognize that quality, availability and speed are essential to healthcare data requestors. This is why we built Velocity Exchange to provide immediate access to data from both traditional and digital retrieval methods while ensuring proper patient authorization and HIPAA compliance."
Historically, data requestors, including patients, have had limited options for gaining access to health data and patient charts, often waiting weeks or longer on the heavily-burdened healthcare system to receive, process, harvest and distribute medical records. DataFile was an early advocate of interoperability as a mechanism for offloading the clerical functions of medical records in all use cases. Mounting evidence of healthcare staff burnout only serves to underscore the need for automation and workflows that relieve staff of administrative work, so they can focus on the patient care.
The Department of Health and Human Services Office of Civil Rights (OCR) is pushing for greater interoperability and more streamlined data exchange between providers and requestors, including patients. DataFile partners with healthcare providers to ensure they comply with the required access to health data and avoid information blocking. Many more use cases can benefit from the increase in end points of the Velocity aggregated data network. Faster and more open access to the information in the electronic health record speeds life insurance applications, medical research, and litigation - and that's just the start of where interoperability and Velocity Exchange will accelerate healthcare data availability.
About Velocity Exchange
The speed of healthcare and the weight of outcomes demand the next evolution of medical data exchange. Velocity Exchange offers a faster way to receive structured and unstructured health data for improved clinical and financial decision-making. The Velocity suite of solutions leverages an unparalleled network of quality data sources and utilizes automation to aggregate, structure and deliver healthcare data. With Velocity Exchange, patients, providers, healthcare plans, record retrieval services, government entities and life insurers alike can access many records with a single point of contact. The last mile of interoperability just got shorter with Velocity Exchange from DataFile.
About DataFile Technologies
In addition to delivering health data through Velocity Exchange, DataFile specializes in concierge services supporting providers and health systems to increase operational efficiencies, streamline manual workflows and combat healthcare staff burnout. Our concierge solutions include valued added services that take the burden and busywork off healthcare staff for health information management functions such as release of information, document filing/routing, standard forms completion for FMLA and disability and prior authorization.