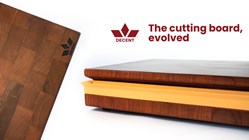 I created The Decent Butcher Block because I was frustrated that all the options, even the most expensive cutting boards, weren't durable, and didn't address the most common points of failure. The Decent Butcher Block is sustainable, beautiful, functional and will last a lifetime
LINCOLN, Neb. (PRWEB) August 17, 2020
If the kitchen is the center of the home, the cutting board is its focal point. Today, The Decent Co. launches The Decent Butcher Block on Kickstarter combining expert craftsmanship and premium materials to create a board that's a cut above the rest.
Cutting boards are staple tools in every kitchen. Most people have several and replace them often. Plastic cutting boards develop deep grooves quickly, while many inexpensive wooden cutting boards warp, crack and split over time. Nevermind that practical cutting boards generally aren't attractive enough to earn a permanent place on a countertop as part of the kitchen decor.
The Decent Butcher Block offers a robust solution that combines made in the USA artisan craftsmanship with modern design and functionality. A self-healing end-grain surface of sustainably sourced Northern Hard Maple undergoes a proprietary curing treatment to ensure it will endure years of use without warping or splitting. Its design and unique silicone juice groove create an ideal cutting surface and elegant conversation piece.
"I created The Decent Butcher Block because I was frustrated that all the options, even the most expensive cutting boards, weren't durable, and didn't address the most common points of failure," said Matt Adams, founder of The Decent Co. "The Decent Butcher Block is sustainable, beautiful, functional and will last a lifetime."
In addition to a proprietary curing process, The Decent Butcher Block features embedded structural support to resist warping and natural antimicrobial chemical compounds to prevent the breeding of bacteria. Half-inch feet keep the board raised which allows for even drying which is critical to prevent warping. Lastly, an optional silicone juice groove is an innovative design feature embedded on the side of the body, which allows fluids to flow over the edge like an infinity pool and offers full use of the cutting surface while still controlling spillage.
The Decent Butcher Block is available to pre-order in a standard model or upgraded juice groove model starting at $249. To pre-order, visit pr.go2.fund/butcherblock.
About The Decent Co.
Two years ago Matt Adams, an avid cook, founded The Decent Co. when he saw a need for cutting board improvement. Since then, Matt has been on a mission to create The Decent Butcher Block, a sustainable and durable cutting board built to last a lifetime. The cutting board is thoughtfully designed, expertly crafted from the best materials available, and built to last. To make his vision into a reality, Matt has collaborated with experts in design, engineering, woodworking, and materials to solve the most common cutting board problems. For more information, visit https://thedecent.co/.