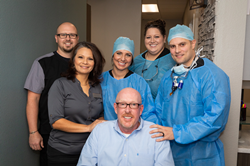 Midland, TX (PRWEB) May 29, 2020
Patients who experience dental anxiety in Midland, TX and surrounding areas can receive soothing sedation dentistry at The Dental Studio of Midland with or without a referral. Drs. Tye Thompson, Jordon Green, and Mallory Layman understand the power of sedation dentistry when it comes to helping calm fears and dental anxiety while providing a soothing experience for the patient. This often helps patients receive the dental care they need in a more timely and comfortable manner.
Dental anxiety is a very common concern many people experience, usually caused by a bad past dental experience, fear of needles, drills or surgery, or even the inability to sit still in a dental chair. Patients who suffer from this often find themselves avoiding the dentist, which in turn, causes their dental problems to worsen due to lack of care. Sedation dentistry provides a solution to this concern by offering patients benefits to their oral and overall care, including:

No side effects of sedation
Quicker and simpler dental visits
Reduction of anxiety and/or fear
Blocks sensations of discomfort
Variety of sedation options available
The Dental Studio of Midland offers a wide variety of sedation dentistry options to cater towards patients' needs, wants and level of dental anxiety. Many treatments include local anesthetic, which numbs the area of the mouth where treatment is to be performed. This can be combined with more advanced sedation options. For minor treatments or those with moderate anxiety, nitrous oxide or oral sedation are common options. Both forms of sedation put patients into a calm and relaxed state to receive their care. For those with more severe anxiety or who have a large upcoming procedure, such as full mouth dental implants, IV sedation is available. This level of sedation dentistry puts patients into a sleep-like state so that they can rest comfortably while the treatment is performed.
While blocking feelings of discomfort and anxiety is a great reason for choosing sedation dentistry, it also helps those who have trouble sitting still or who have extensive dental work that needs to be done. While under the effects of sedation dentistry, more extensive treatment plans can be completed in just one sitting. This means that patients will often not need to come back for multiple appointments and can receive all or most of their care at once.
The Dental Studio of Midland uses sedation dentistry for many of their treatments at their modern dental office. The practice offers advanced dental implant surgery to replace missing or failing teeth, cosmetic dentistry to improve the look and function of patients' smiles, as well as features advanced dental technology like laser dentistry to better serve their patients' needs.
Those with dental anxiety who are interested in receiving dental care with the help of sedation dentistry can contact The Dental Studio of Midland by calling 432-687-0629 or visiting the website at http://www.midlanddentalstudio.com to book a consultation appointment with Drs. Thompson, Green, and Layman.
About the Dentists
The Dental Studio of Midland offers comprehensive and caring dental care to patients in Midland, TX. Committed to serving custom care that patients truly need, Drs. Tye Thompson, Jordon Green, and Mallory Layman build relationships with each patient in order to understand their unique needs and goals. Both Drs. Thompson and Green completed dental training at the prestigious University of the Pacific and continue to expand their knowledge in dentistry by attending multiple continuing education courses. Dr. Layman brings her experience from the University of Texas to the team. The Dental Studio of Midland is equipped with advanced dental technology to provide patients with the highest standard of care. Drs. Thompson, Green, and Layman offer laser dentistry, Invisalign®, full mouth reconstruction, and sedation dentistry. The Dental Studio of Midland team is dedicated to providing the most efficient, least painful procedures for patients, and offer minimally invasive surgery whenever possible. To learn more about Drs. Thompson, Green, and Layman and the services offered at The Dental Studio of Midland, call 432-687-0629 or visit http://www.midlanddentalstudio.com.