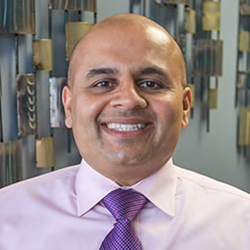 This toy drive is just one of many events that Schaumburg Dental Studio participates in to serve their community.
Schaumburg, IL (PRWEB) December 13, 2019
Schaumburg Dental Studio is hosting an annual toy drive just in time for the holidays. The respected dentists of Schaumburg Dental Studio invite their community to join them in collecting stockings for children in Lake County, IL. The toy drive will be hosted at a local bowling alley where attendees can donate stockings filled with toys and enjoy bowling, pizza, and a visit from Santa. The compassion that Dr. Jig Patel, Dr. Muizz Merchant, and the staff at Schaumburg Dental Studio have for their patients and their community can be seen in the many ways they actively serve them, from fundraising events to minimally invasive techniques. This highly experienced team offers modern and leading-edge services whenever possible, including laser gum disease treatment, gentle pediatric dentistry, and lasting dental implants.
The toy drive will take place Sunday, December 15, 2019, at Poplar Creek Bowl. The Schaumburg Dental Studio dentists and staff are inviting attendees to donate a gender- and age-specific stocking that is purposely stuffed for a boy or girl between the ages of three and twelve. Attendees can deliver the stockings to Santa himself and take a picture with him. After the stockings are collected, Santa will perform Christmas carols and a raffle will be held. Participants will receive a raffle ticket for every stocking they donate with a chance to win a $100 Visa gift card. All stockings donated at this event will be given to the Church of Joy in Waukegan, IL, where they will be distributed to children throughout the Lake County area.
This toy drive is just one of many events that Schaumburg Dental Studio participates in to serve their community. They also host an annual Dentistry from the Heart event where they reserve one day a year to offer completely complimentary services to their community, including cleanings, fillings, and tooth extractions. Plus, they provide the most advanced, and often minimally invasive care to their patients year-round. This includes helping pediatric patients build a stable foundation for their future oral and overall health with customized and gentle dentistry. They also educate patients on the serious effects of oral health concerns, such as tooth decay and gum disease, and treat patients with gentle techniques including laser dentistry.
While gum disease can cause pain, inflammation, and bleeding of the gums, there are other severe effects that gum disease has on the whole body. Bacteria from gum disease can enter the bloodstream and research shows links between gum disease and other diseases such as heart disease, stroke, and diabetes. While the causes, symptoms, and overall effects of gum disease are complex, Drs. Patel and Merchant have simplified its treatment through minimally invasive laser dentistry.
With laser dentistry, the dentists of Schaumburg Dental Studio can provide treatment for gum disease and other gum related health concerns, including gingivectomies and gum recontouring. This technology allows a dentist to target only the diseased gum tissue, leaving the healthy tissue unharmed. Because the laser technology is less invasive than traditional treatments, there is usually little bleeding or post-operative discomfort. Patients who choose laser dentistry typically do not require anesthetic and often note faster healing times.
Those with gum disease in Schaumburg, IL are invited to connect with dentists, Drs. Patel and Merchant, for minimally invasive laser dentistry. To schedule an appointment, visit http://www.SchaumburgDentalStudio.com or call the office at 847-348-8673. Those interested in donating to the Schaumburg Dental Studio toy drive or attending the event this Sunday can connect with Lizette by emailing lizette@drjig.com.
About the Dentists
Schaumburg Dental Studio is a general and cosmetic dental practice offering personalized dental care to patients in Schaumburg, IL since 2004. With over 30 years of combined experience, Drs. Jig Patel and Muizz Merchant provide cutting-edge care including dental implants, laser gum disease therapy, orthodontics and cosmetic dentistry treatments. Dedicated to their patients, this team frequently participates in community charities including the Dentistry from the Heart program each year. A patient-centered office, the entire team at Schaumburg Dental Studio strives to offer leading-edge treatments using the latest technology while also making them affordable for their community. To learn more about Dr. Patel, Dr. Merchant, Schaumburg Dental Studio or the services they offer, visit their website at http://www.SchaumburgDentalStudio.com or call 847-348-8673 to schedule a custom consultation.