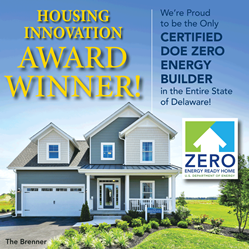 BRIDGEVILLE, Del. (PRWEB) September 16, 2021
For the fourth year in a row, the United States Department of Energy has recognized Insight Homes in their Innovation in Production Homes category. This year, the Brenner from Insight Homes has been selected as a 2021 Housing Innovation Award winner. In total there were 30 winners across 7 categories, in 14 states. It is a huge honor for Insight Homes to be the only winner in the state of Delaware.
The Department of Energy uses the Housing Innovation Award to recognize builders throughout the country that are certified under the DOE Zero Energy Ready Home (ZERH) program. In order to be certified in the ZERH program a builder must meet various criteria including energy performance metrics, consumer education, sales and marketing, land development, design, business metrics, and construction quality. In addition to meeting this criteria, builders must represent a new level of home performance that exemplifies their efforts in building better homes for Americans. Insight Homes does this by ensuring their efforts in energy efficiency, durability, and comfortability for all of their customers.
The 2021 award winning home, the Brenner, is a 4 bedroom, 2.5 bathroom, 2 story home that measures 2,319 square feet. The Brenner is not only durable and comfortable but also is an energy saving home. According to the Home Energy rating System (HERS), the Brenner's HERS score is 51. The standard HERS score for a new home across the country is 100. When comparing the cost efficiency of a score of 51 to a 100 it can be seen that the Brenner would save a new homeowner $898 in estimated annual energy savings.
Insight Homes are built using the latest in efficient building materials and techniques that are invested in constantly to perfect each home. This helps the company exceed the standards for green homes, and is what allows it to be recognized consecutively by the Department of Energy for Home Innovation.