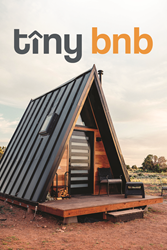 "Holiday competition series, dream room makeovers, and steps to sustainable living – these are just a few of the series that SLING TV viewers can expect to see on TDN."
JAMESTOWN, N.C. (PRWEB) October 01, 2020
The Design Network launched today on SLING TV as a free live network, featuring 24/7 programming all about home and design. SLING TV, a leading TV streaming service that delivers live and on-demand entertainment instantly to compatible internet-connected devices, is adding The Design Network to its lineup of free content, which includes thousands of free TV shows and movies available to viewers with no strings attached.
"We're thrilled to join SLING TV's free channel lineup," said Jason Harris, TDN founder. "SLING TV has been a true pioneer in streaming television and it's exciting to partner with such an innovative platform with scale at a time when so many people are interested in home and design content."
The Design Network will bolster SLING TV's strong lineup of lifestyle content, offering viewers premium home tours, DIY tips, and home renovations brought to you by the best in the design industry. There has never been a more important moment for home – a place that has become the backdrop for weeknight dinners, zoom calls, and even a new kind of school classroom. TDN is bringing viewers all the inspiration to create a home sanctuary that uniquely serves different families' evolving needs – from home office to at-home wellness spaces.
"TDN takes the meaning of 'home' seriously, rolling out premium content that is relevant, seasonal, and intentional for a new kind of homeowner" remarks Katlyn Wilson, TDN President. "Holiday competition series, dream room makeovers, and steps to sustainable living – these are just a few of the series that SLING TV viewers can expect to see on TDN."
Customers can access The Design Network on SLING TV's streaming service and SLING Free, via internet-compatible devices, including Xbox, LG, and SamSung TVs; Amazon, Android and Roku streaming devices and via watch.sling.com on Chrome, Safari and Edge web browsers.
ABOUT THE DESIGN NETWORK
The Design Network is a first-of-its-kind OTT network, created for the new Connected TV era, delivering a different and unique perspective on all areas of the home. From organization to entertaining, TDN series are produced with a new generation of homeowners in mind – focusing on style, how-to, and an education in design choices beyond just the before and after. TDN is streaming 24/7 for free on SLING TV, The Roku Channel, Samsung TV+, Xumo, Vizio Smartcast, Redbox, Rakuten TV and Plex. Stream anytime at TDN.TV.