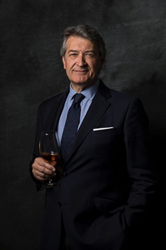 NEW YORK (PRWEB) January 19, 2021
The Regulatory Council for the Designations of Origin "Jerez-Xérès-Sherry", "Manzanilla-Sanlúcar de Barrameda" and "Vinagre de Jerez" has officially elected former general manager, César Saldaña, as its newest president. The Consejo Regulador represents each Denomination of Origin, including wine regions dating back 3,000 years, and protects an oenological tradition unique to the world. The plenary council of the Institution is made up of 23 members, 20 of whom are democratically elected every four years.
César Saldaña was born in Jerez, Spain in 1961. Although closely related to the world of the Sherry bodegas since his youth, César started working as a firm consultant in Madrid. He returned to Jerez in 1985 to join the Sherry trade, first as an export manager at González Byass´ International Division and then at The House of Sandeman as commercial director, with marketing and sales responsibilities over both the Sherry and the Port sides of the company. In 2000 he joined the Consejo Regulador de las Denominación de Origen de los Vinos de Jerez as general manager and after 20 years in this position he was elected President.
"After two decades in the house and almost 36 in the Sherry business, becoming the president of the Consejo Regulador means both a huge honor and a tremendous responsibility," says President César Saldaña. "In my previous position as general manager I already had a global vision and a major role in the management of the institution and the Sherry sector. But the presidency involves a very important additional task: finding the ways to align the multiple views in the sector for the good of the Denomination of Origin."
The electoral process began June 16 and was chaired by Mr. Daniel Sánchez Román, provincial delegate for the Regional Ministry of Agriculture, Fishing and Sustainable Development. The newly constituted plenary assembly members also received their credentials during the session; ten representing wine-growers and ten representing the 'bodegas' (wineries). Throughout the session, many words of acknowledgement were bestowed on the outgoing president, Mr. Beltrán Domecq, whose work over the past eight years was described as brilliant by provincial delegate, Mr. Sánchez.
About Regulatory Council of the Designations of Origin "Jerez-Xérès-Sherry", "Manzanilla-Sanlúcar de Barrameda" and "Vinagre de Jerez"
The Consejo Regulador for the D.O. "Jerez-Xérès-Sherry", "Manzanilla-Sanlúcar de Barrameda" and "Vinagre de Jerez" is the institution that oversees these Andalusian designations, comprised by 1,750 winegrowers and some 100 wineries located in the Jerez region ("Marco de Jerez") in the province of Cádiz, Spain. Sherry wines and Sherry vinegar offer many different varieties of truly genuine character. They have been exported for centuries under brand names that have, in themselves, become authentic icons of Spanish culture the world over.