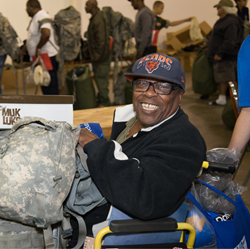 In 2019, we impacted more than 50,000 veterans and provided over 2 million dollars in funding through our Grant Funding, Special Initiatives, and Health & Comfort program.
LANHAM, Md. (PRWEB) March 03, 2020
DVNF was created to help address the needs of these veterans, and to give comfort to those who need it most. Our staff works hard to reach out into veteran communities throughout the country, and through partnership and collaboration, we are working to make veterans' lives better.
We also exchange ideas and information to ensure effectiveness in providing services to veterans, disabled or not. And we do so by identifying issues of concern to veterans and developing recommendations to address those concerns through advocacy, programmatic, and outreach activities.
Through selective grants and strategic outreach, DVNF has its hand in many emerging trends in the care and support of veterans. We accomplish this by granting funds to pilot projects like PTSD service dog initiatives, unique new therapy methods for combat veterans, and by delivering Comfort Kits to low-income and homeless veterans.
In 2019, we impacted more than 50,000 veterans and provided over 2 million dollars in funding through our Grant Funding, Special Initiatives, and Health & Comfort program.
Here are some Key Highlights:

DVNF served 45 Organizations in 21 States through our Capacity Building program which directly impacted over 35,000 Veterans
$685,000 in grants were awarded to 45 veterans services organizations
Our Health & Comfort Program directly impacted the lives of over 10,000 Disabled & At-Risk Veterans.
DVNF supplied over 1 million dollars worth of basic supplies to veterans. This included wardrobe assistance for 86 Veterans seeking to re-enter the workforce.
Clothing, supplies, and access to resources were handed over to 115 Veterans in need at our annual resource fair held in Maryland in November 2019.
DVNF delivers immediate impact and relief through our Health and Comfort Program. As a leader in the veteran community, DVNF understands how much veterans struggle to gain access to basic resources needed to get them through the day. The Health and Comfort program serves low income and homeless populations across the United States that demonstrate a high need– within the veteran community. Through this program, DVNF provides items like Comfort Kits, first aid supplies, hygiene items, clothing, shoes, emergency blankets and more. In 2019, DVNF provided approximately $1,015,703.79 in goods to 10,000 Veterans nationwide through our Health and Comfort Program.
The statistics show 3.8 million veterans have a service-connected disability. Given the size of the need, it is impossible to go it alone. As such, DVNF supports like-minded organizations that create innovative strategies and programs that support disabled veterans. Our capacity-building grants are designed to strengthen the ability of these organizations to better serve disabled and at-risk veterans in achieving their goals for healing and independence. In 2019, 45 organizations across 21 states were awarded grants totaling $685,000 to help them continue providing programs and services to disabled and at-risk veterans
In honor of Veterans Day, 2019 the Disabled Veterans National Foundation staged its 3rd annual resource fair in Silver Springs, Maryland. Each year we serve more veterans and provide resources for service members. In fact, several homeless veterans have found help through our fair. In 2019, DVNF coordinated with 46 partners to provide resources to approximately 115 Veterans. This included providing work outfits for 86 veterans courtesy of our partner Joseph A. Bank.
Special Initiatives
There are exciting advancements in the field of technologies for people with disabilities. And our partnership with Dr. Rory Cooper and the Human Engineering Research Laboratory (HERL) at the University of Pittsburgh continued in 2019. We are proud to support HERL's endeavor to help improve the mobility of people across our country.
Their research offers a new avenue of access to mobility and reducing barriers to health and well-being. HERL believes in focusing on an individual's abilities – not their inabilities – and was created to not only to perform cutting-edge research and development but also to employ disabled veterans and help them develop skills that can lead to excellent lifelong career opportunities. In July 2019, DVNF handed over a cheque valued at $50,000 to support their work.
Veterans face a range of physical and mental health issues, especially those suffering from Post Traumatic Stress Disorder (PTSD), and its side-effects which tragically includes suicide. We believe our work in the community, with veterans, and nonprofit providers are essential to protecting the lives of our veteran brothers and sisters. And in 2020, DVNF will be expanding its outreach to build awareness and provide support to veterans and families that face issues related to PTSD, and who are vulnerable to Suicide.
We are proud of what we accomplished in 2019 and look forward to the continued support from our hundreds of donors, partners, volunteers, and well-wishers in 2020.
Please visit our website for more information: https://dvnf.org/