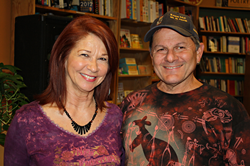 "CCR is Classic Rock & Roll is a favorite of mine," said Doug Collins, executive producer of The DM Zone. "Their music shaped our lives and continues to be immensely popular to a brand new audience, too. Let's face good music is timeless."
ATLANTA (PRWEB) January 29, 2020
Catching up with Stu Cook and Doug 'Cosmo' Clifford - two of the original members of Creedence Clearwater Revival - in this compelling video with host Dianemarie Collins answers questions like how Doug got his nickname of 'Cosmo' and how they have now been playing as Creedence Clearwater Revisited even longer than when they were together with @JohnFogerty as Creedence Clearwater Revival. You will even hear a live performance from the Talking Stick Resort in Scottsdale, Arizona of 'Born On The Bayou."
"CCR is Classic Rock & Roll - a real favorite of mine," said Doug Collins, executive producer of The DM Zone. "Their music shaped our lives and continues to be immensely popular to a brand new audience, too. Let's face it. Good music is timeless."
Country Music Legend Mark Chesnutt talks about how he met his wife which is a scoop for The DM Zone. It is a charming story about life on the road as a musician when true magic happens.
Author Alan Dean Foster talks all about his career writing for Hollywood as he shares tales about #GeorgeLucas and Star Wars, the Star Trek novels, and Alien. He's got a new publisher now and he shares that, even with his success, the book business is harder than ever today.
The DM Zone interviews with Academy Award Winners are always popular as we caught up with Clint Eastwood as he wished #Carmel a happy 100th birthday and served as the Grand Marshal of the Carmel-by-the-Sea parade. Richard Dreyfus talked about not only his Academy Award performance in 'The Goodbye Girl' but also delivered a spontaneous story about one of our favorite comedy performances in 'Moon Over Parador.' While not a winner herself, Beatrice Welles, daughter of Orson Welles, shared her life experiences growing up with Orson Welles and inside stories about his movies and more.
"Country Thunder is a blast," said Dianemarie Collins, host of The DM Zone. "Interviewing all these performers in one location over three days including seasoned Country Music Legends like the Nitty Gritty Dirt Band, Mark Chesnutt and Joe Diffie as well as upcoming acts like LoCash and Chris Janson is a unique experience."
The DM Zone loves to interview artists on their way to superstar status. Chris Janson, hardly an overnight success, talks about his family and tells a story about his pants on stage with Hank Williams Jr. It is certainly a story that is worth hearing. Siblings Lee and Elaine Roy are 'The Roys' and are among the top bluegrass acts on the planet. Listen to the two of them do an a capella rendition of 'Trailblazer' before their music video rolls ... and it's pitch perfect! LoCash had a hit with 'Little Miss Crazy Hot' when the DM Zone did the interview with them at Country Thunder but they are now headlining shows across the country. Love and Theft performed 'Runaway' in their interview with Dianemarie for The DM Zone. They are both raised around preachers and you will quickly discover how that impacted their music video.
There are lots of wonderful interviews to watch with authors, athletes, movie stars and musicians at The DM Zone. Come by for a look ...
About The DM Zone
The DM Zone is a syndicated, online television channel that is hosted across multiple video platforms across the Internet. With combined views exceeding 1.2M unique views over the last 12 months, the DM Zone is a compelling platform for politicians, authors, actors, athletes, musicians and other creative professionals.