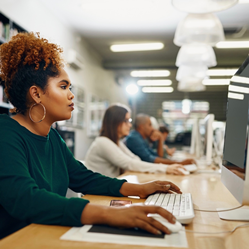 Our partnership with Bendable will bring valuable learning skills to the workforces that will not only strengthen the economy but give individuals a new sense of purpose.
CLAREMONT, Calif. (PRWEB) June 23, 2022
The Drucker Institute at Claremont Graduate University and Baker & Taylor announced today that they were partnering to bring Bendable, the Institute's lifelong learning platform, to public libraries across the United States.
A robust learning marketplace, Bendable allows residents of all ages and backgrounds to easily discover content that is just right for them and then acquire new knowledge and skills through online courses as well as local, in-person learning opportunities. It is an especially valuable tool for libraries as they are being increasingly called upon to play an important role in workforce development.
"We couldn't be more thrilled to have Baker & Taylor—the largest supplier of library content, software and services to public and academic libraries in the U.S.—as our sales partner," said Rick Wartzman, head of the Drucker Institute's KH Moon Center for a Functioning Society. "But it's not just Baker & Taylor's reach that we're excited about. As a mission-driven social enterprise, it was important for us to partner with a company that is truly interested in helping the communities in which it operates and sells products and services to thrive. Baker & Taylor, with its proven commitment to elevating literacy and learning alongside its library customers, is very much that company."
"At Baker & Taylor, we know the critical role libraries play in our communities, where they no longer are looked to as just book providers, but epicenters that support the community," said Amandeep Kochar, Baker & Taylor's president and CEO. "Our partnership with Bendable will bring valuable learning skills to the workforces that will not only strengthen the economy but give individuals a new sense of purpose."
Bendable comes in three tiers: Bendable Basic, Bendable Full and Bendable Plus, with more features added as you move up to a new level.
The Drucker Institute-Baker & Taylor partnership will be highlighted at the American Library Association's annual conference and exhibition, which will be held in Washington, D.C., June 23-28. Libraries interested in Bendable can also learn more by visiting bendable.com/libraries.
ABOUT THE DRUCKER INSTITUTE
The Drucker Institute is a social enterprise based at Claremont Graduate University. Its mission is strengthening organizations to strengthen society. Its programs help corporate, nonprofit, government and community leaders manage with courage. For more, visit drucker.institute.
ABOUT CLAREMONT GRADUATE UNIVERSITY
Founded in 1925, Claremont Graduate University is one of a select few American universities devoted solely to graduate-level education. The university is a founding member of The Claremont Colleges, which include Pomona College, Pitzer College, Claremont McKenna College, Scripps College, Harvey Mudd College and Keck Graduate Institute. CGU comprises seven schools offering 76 degree and certificate programs. The university's unique transdisciplinary perspective encourages students to explore complex issues across academic disciplines. CGU is home to the Peter F. Drucker & Masatoshi Ito Graduate School of Management and the annual Kingsley and Kate Tufts Poetry Awards. Visit cgu.edu.
ABOUT BAKER & TAYLOR
Baker & Taylor has been in business for over 190 years, offering an extensive selection of products and services for academic and public libraries. It is the only partner that can truly offer a one-stop shopping experience for all formats, including print, movies and music, and digital downloadable ebooks and audio content. Visit Baker & Taylor's online selection and acquisitions website, Title Source 360.