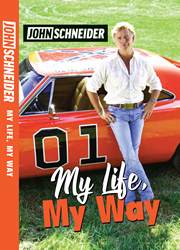 NASHVILLE, Tenn. (PRWEB) November 15, 2019
How did a lonely, overweight boy from New York transform himself into modern-day cowboy, American heartthrob, and the South's favorite son? It's all in actor, filmmaker, and recording artist John Schneider's new memoir, My Life, My Way — available today at Amazon and JohnSchneiderStudios.com.
Co-written with Jamie Blaine and River Jordan, the autobiography provides an in-depth look at Schneider's rise to fame in the General Lee. The new book includes such stories as: sneaking on set to make his film debut in Smokey and the Bandit; starring as "Bo Duke" on one of the most beloved shows in TV history, The Dukes of Hazzard; co-founding Children's Miracle Network with Marie Osmond; playing Superman's dad on the hit CW series Smallville; finding chart-topping success as a country singer and moving in with Johnny Cash; competing on Dancing with the Stars; the messy, lingering divorce that resulted in jail time; the floods that destroyed his home and film studio – twice; his current role on Tyler Perry's top-rated cable hit, The Haves and the Have-Nots; controversy around the Rebel flag and more.
In addition to the iconic role of "Bo Duke" in The Dukes of Hazzard, Schneider's extensive acting career includes the hit series Smallville and his current series, Tyler Perry's The Haves and the Have Nots - the #1 primetime series on cable on Tuesday nights. Schneider was also a fan favorite on Dancing with the Stars last fall.
Schneider has over 20 albums to his credit and four #1 singles on the Billboard Country chart. He returned to country music in 2018 with The Odyssey, an ambitious 52-song project, plus Greatest Hits…Still, and the holiday EP, Merry Christmas Baby. He continued releasing new music this year with the southern rock inspired Redneck Rebel and the just-released inspirational album, Recycling Grace.
It's also worth noting that Schneider co-founded the Children's Miracle Network — a non-profit organization that raises funds for children's hospitals, medical research, and community awareness of children's health issues. Founded in 1983, they have raised more than $7 billion dollars (with over $409 million in 2018 alone) for medical research and community  awareness of children's health issues, which is distributed directly to a network of 170 children's hospitals.
For more information, visit the official website at http://www.johnschneiderstudios.com.
Connect with John Schneider:
https://twitter.com/John_Schneider
https://www.facebook.com/johnschneiderstudios/
https://www.instagram.com/thejohnschneider/