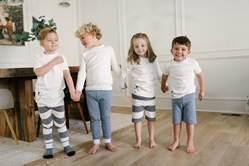 SALT LAKE CITY (PRWEB) April 24, 2020
Peejamas are the adorable potty training jammies made with ultra-absorbent liners that soak up urine. Third party tested, they reliably hold up to 10 ounces of liquid eliminating the need to wear bulky diapers or training pants. Peejamas aren't just great for nighttime training. These specially designed garments are 10 times more absorbent than normal daytime training pants.
Peejamas are the comfortable and durable way to potty train:
Made with OEKO-TEX certified fabrics, they're 100% safe for the skin.
They include high quality thread counts, so don't be afraid to wash them over 300+ times.
It's one of the few pj brands sold in the U.S. that doesn't soak fabric in fire-retardant chemicals.
Peejamas is not your typical garment company. It's making effective, environmental progress by reducing the harmful, carcinogenic waste found in landfills. According to the EPA, 20 billion diapers end up in landfills each year. It takes 500 years for disposable diapers to decompose and the composition often contains known carcinogens.
The brand is more committed than ever to continue to expand its positive impact on the environment while helping tens of thousands of children each year:
Over the past two years, Peejamas eliminated the equivalent of nearly 16,000,000 diapers from landfills! That is nearly 1,000,000 pounds of disposable diaper waste that has been removed.
Peejamas is saving more than the environment with this kid-friendly clothing. Parents save money in the process by not having to buy diapers/disposable training pants each week.
Peejamas are one third the cost of disposable diapers per use and keep their absorbency up to 300 washes.
The brand is making further contributions by donating a portion of every sale to the CDC Foundation and UN Foundation to support the fight against COVID-19.
For more information, visit https://www.peejamas.com/.
About Peejamas:
Founded in 2016, Peejamas are the stylish, functional and affordable sleepwear for your child's potty training years. They do more than put you at ease from changing wet night clothes and bed sheets. Did you know parents will pay over $2,000 during the course of their child's potty-training journey? That doesn't include night-time diapers, which cost, on average, 50 percent more than standard day-time diapers. You're also spending thousands of dollars on something that contributes billions of pounds of landfill waste every year. The brand is looking to change the way you approach potty training with the super absorbent, quality kids pajamas that benefit everyone, including Mother Nature.