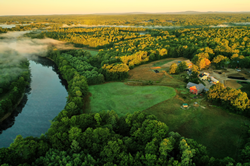 "Today, The Ecology School campus takes its first inhale as a living, breathing example of what a sustainable future can look like," said The Ecology School President/CEO and co-founder Drew Dumsch.
SACO, Maine (PRWEB) April 19, 2021
The Ecology School announced today that it is commemorating the completion of its regenerative green campus at River Bend Farm during a weeklong 'Earth Week' celebration, which will include flipping the switch on 712 solar panels, a virtual message from Maine Governor Janet Mills, and COVID safe tours of the new facility. The April 19-24 Earth Week schedule can be found at The Ecology School website. The pioneering campus, stretching over a historic 105-acre farm with views of the Saco River is expected to be the first location in Maine, and among only 23 in the United States, to achieve the full International Living Future Institute's Living Building Certification (LBC), the most comprehensive green building certification in the world.
The $14.1 million project took six years of visioning, planning, and construction bringing together the state's top green design, construction, and renewable energy leaders, including: Kaplan Thompson Architects, Briburn, Simons Architects, Richardson & Associates, ReVision Energy, Zachau Construction, and Hancock Lumber.
Maine Governor Janet Mills offered the following pre-recorded statement in advance of Earth Day: "Standing before the United Nations a year ago, I promised to the world that Maine would be carbon neutral by 2045. That goal is aggressive, yes, but it's also achievable because of the contributions of organizations like The Ecology School at River Bend Farm."
Buildings that achieve LBC certification are regenerative in nature and able to successfully connect occupants to natural light, open air, food, nature, and community; they are self-sufficient and remain within the resource limits of their site; and they create a positive impact on the human and natural systems that interact with them. They also achieve excellence in key performance areas including energy, health & happiness, materials, equity, beauty, place, and water.
With a 9,000 square-foot dormitory, 7,000 square-foot Poland Spring Education and Dining Commons, and solar array that will generate 105 percent net positive energy, the property represents the latest example of Maine's—and the nation's—progress toward a carbon neutral future.
"It's a great and humbling privilege to be able to stand together—with our many supporters in Maine, New England and nationally—and commemorate a weeklong celebration of planet Earth," said The Ecology School President/CEO and co-founder Drew Dumsch.
"Today, The Ecology School campus takes its first inhale as a living, breathing example of what a sustainable future can look like," continued Dumsch. "It is my greatest hope that children, adults, school leaders, business leaders, government leaders—everyone—will visit this campus and realize that living green is not only beautiful and elegant, but it's fun and rewarding. What better time than Earth Day to join the cause for making our planet a safer home for a broad diversity of life."
Despite an unprecedented year amidst a global pandemic, and a $14.1 million funding need, the construction team and staff of The Ecology School managed to maintain momentum, stay safe, realize substantial fundraising wins, and open within its estimated timeframe. The Ecology School aims to serve 12,000-15,000 participants per year, ages preschool to adult, in a combination of in-person, in-school, and online ecology programs.
In addition to the new dormitory, dining commons, and solar array, unique aspects of the ambitious campus include the following:

It was designed for foot traffic and not cars. Tree-line windrows divide the auto-based world from the naturally trafficked world.
Farmyard pathways are ADA accessible and promote universal access.
Rain gardens capture storm-water runoff and strategically drain to nourish farm fields below.
Permaculture gardens include native trees, shrubs, bushes, fruits, and vegetables.
New pathways and gathering areas connect to existing trail systems, inviting exploration of the surrounding property.
EV charging stations are available to those arriving in electric vehicles. To maintain a combustion-free campus, these are supported by a Tesla Powerwall which stores solar energy to provide battery-powered back-up rather than generator back-up.
The 105-acre property is under easement with Maine Farmland Trust; construction is limited to, 8.75-acre building envelope ensuring that the rest of the land is conserved for farming, education, and research.
712 solar panels placed over the south-facing leach field and throughout the orchards will produce 330,000 Kwh per year, which is equivalent to removing 49.5 cars from the road each year.
By 2025, 100% of the produce served will come from The Ecology School's farm or from local farms to demonstrate a sustainable food system and support Maine's economy.
Significant outdoor gathering spaces and theater promote community, physical movement, and joy.
Praise for The Ecology School
Partners of the project commended The Ecology School for its tireless commitment to sustainability. "Zachau Construction is honored to be a part of the team to complete the first Living Building Challenge project in Maine," said Jeff Zachau, president of Zachau Construction. "This is the type of project that will continue to propel sustainable building forward in our state and help others see the possibilities. We are proud of our relationship with the Ecology School and believe in their mission of inspiring Mainers of all ages through the stewardship of and connection to the natural world."
Jesse Thompson, principal at Kaplan Thompson Architects said: "Visionary clients are a rare enough thing, but visionary clients – like The Ecology School –who carry through in spite of enormous challenges to make the world a better place make us very proud to be architects working in Maine."
Major Gifts in Support of the Project

$750,000 from Poland Spring, in support of the Poland Spring Education and Dining Commons.
$250,000 from Daniel E. Offutt III Charitable Trust in support of Daniel E. Offutt III Dining Hall
$125,000 from Jane's Trust
$75,000 from Quimby Family Foundation
$75,000 multi-year grant from the Bangor Savings Bank Foundation, in support of the school's Eastern Pathway, which will be landscaped with educationally significant trees and shrubs and will connect the dormitory to 3.5 miles of on-site conservation trails.
$57,500 from Saco & Biddeford Savings ($50,000) and Paquin & Carroll Insurance ($7,500) in support of the Dining Commons Entry Way
$25,000 from Bernstein Shur, in support of the School Nurse Station & Office, which oversees the health and wellness needs of over 4,000 residential students a year.
$25,000 from Central Maine Power, in support of a Learning Yurt
$25,000 from Hancock Lumber
$20,000 from Efficiency Maine
$5,000 from ReVision Energy
And over $1,000,000 from Individual Supporters and other Foundations
In 2019, The Ecology School was awarded an $8.66 MM loan from the USDA Rural Development's Community Facilities Direct Loan and Guaranteed Loans program, the largest community facilities loan granted to an educational facility in Maine within the past decade.
CEI provided $1.85 MM in long-term financing.
"We are deeply grateful for our supporters across the country and here in Maine," said Dumsch. "We believe The Ecology School offers an extraordinary example of how institutions can combine the most cutting-edge technology on a working rural landscape, integrating buildings from the 18th century, sustainable living, agroecology, and green design and construction."
Highest Standards in Green Building
With its Earth Day 2021 opening, The Ecology School will celebrate its status among only a small cadre of buildings in America—and the only location in Maine—to be attaining Living Building Certification (LBC), the most comprehensive green building certification in the world. Buildings that achieve this certification are regenerative, and actively improve the environment in which they are located, rather than causing harm. There are currently only 25 fully certified LBC buildings worldwide.
Schedule of Events – Earth Week/School Vacation Week
During 'Earth Week' 2021, The Ecology School in Saco, Maine will celebrate the completion and grand opening of River Bend Farm, a $14.1 million project that is being heralded as one of the greenest environmental residential learning centers in the country.

In addition to unveiling two of the most sustainable buildings in the nation, The Ecology School will roll out a full week of Earth Day programming during school vacation week.
Media is invited to join us for personal one-on-one tours of the new campus and interviews with key players.
The full schedule can be found at: https://theecologyschool.org/blog/earth-week-2021-schedule
Please note The Ecology School is following all of the Maine CDC's safety guidelines and recommendations for COVID.
About The Ecology School
The Ecology School is a nonprofit education center that transforms how people think about nature and the environment. Through joyful, hands-on, experiential programming students of all ages learn to become stewards of the environment as they explore local forests, coastal ecosystems, and food systems. Since 1998, The Ecology School has hosted more than 187,000 students and teachers from across the country, educating about the environment and our collective impact on the planet. In 2019, The Ecology School broke ground on its new campus at River Bend Farm in Saco, Maine. Upon completion, The Ecology School will become the most sustainable building in the Northeast. Learn more at TheEcologySchool.org and follow The Ecology School on Facebook @EcologySchool, Instagram @TheEcologySchool and Twitter @ecologyschoolME.