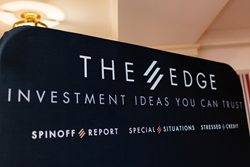 MORRISTOWN, N.J. (PRWEB) January 14, 2020
Value investing is dead and The Edge Group is predicting the Catalyst Space as the new trend for 2020.
The Edge Group LLC, the global leader in Catalyst, Special Situations and Spinoff research, has acquired substantially all of the assets of WhiteSand Research LLC.
As a timely ideas factory, The Edge Group works with renowned activists worldwide and has a strong track record calling shorts like UBER in 2019, which had a -34% decline. The prediction of AT&T's break-up also came from The Edge in March 2019, and subsequently Elliott Management became active in October gaining a +40% return. These calls can be found on CEO Jim Osman's Forbes page.
Jonathan Duskin, CEO & Partner of Macellum Capital, spoke about his firm's activist intervention in Bed Bath & Beyond during The Edge's ideas conference, and it has surged +38% since November.
The acquisition of substantially all of WhiteSand's assets offers money managers even greater access to unique market intelligence in the niche Catalyst, Special Situations and Spinoff space. Activists benefit from The Edge's independent perspective and have the opportunity to seize and trade global catalysts, special situations and Spinoffs.
In addition to WhiteSand, The Edge has brought on board Paul McCann as Head of Partner Relations, who said on joining the team, "I'm all about finding opportunities for my clients. The Edge has the expertise and knowledge I was looking for to help my clients win. Finding timely opportunities is the key and now I'm able to increase these by looking at both Spinoffs and Special Situations." Further details on partnering with The Edge can be found by contacting Paul directly at pm@edgecgroup.com or +1-630-808-8649.
By keeping costs low for funds, The Edge helps money managers by offering a proprietary model which consistently outperforms indices.
Jim Osman (CEO and founder of The Edge Group) said, "Value investing is dead. Catalyst investing isn't. It's part of the market which uses intelligence and skill beyond automation. No companies offer clients the expertise we can, and our timely unique ideas produce real returns.
"Acquiring substantially all of WhiteSand's assets was important because it grows our business as well as giving a whole new pool of investors access to ideas they can make profit from. As master stock-picker Peter Lynch said, 'If you only invest in an index, you'll never beat it.' The catalyst space is sure to provide alpha in 2020."